(Warning: graphic content)
When authorities raided the K9 and Feline Assistance Program, a self-proclaimed "animal rescue" in Tularosa, New Mexico, they made a horrifying discovery. An animal control officer visited the property to (actually) rescue dogs and cats who were reportedly being neglected. The officer—who was accompanied by officials from the Otero County Sheriff's Office—discovered "twenty-two dogs [who] were extremely emaciated along with several cats in need of veterinary care." According to one report, the dogs were "so malnourished they could barely walk." During the raid, someone also discovered a dead dog. Authorities from the sheriff's office then returned to the property with a warrant and found eight additional dead dogs who had been confined to plastic carriers and metal crates without food or water.
A necropsy reportedly determined that at least one of the dogs had died after being poisoned with antifreeze and that another had slowly starved to death. The still-living dogs appeared to be on death's door:
"Many of them were in need of immediate medical attention due to extreme neglect or abuse," Sheriff Benny House said. "The Sheriff's Office deputies observed dogs that were extremely emaciated with no muscle could be seen and their bones were clearly visible. The animals' skin looked like a thin shirt draped over a coat rack. Sheriff's Office observed there was a complete lack of a water source and no availability of food for the animals."
Ryan Boggs, who reportedly sometimes looked after the property, allegedly told authorities that 15 to 20 dogs had been buried on the property. "Boggs did admit the animals were kept in pet carriers from weeks to months on end," House said.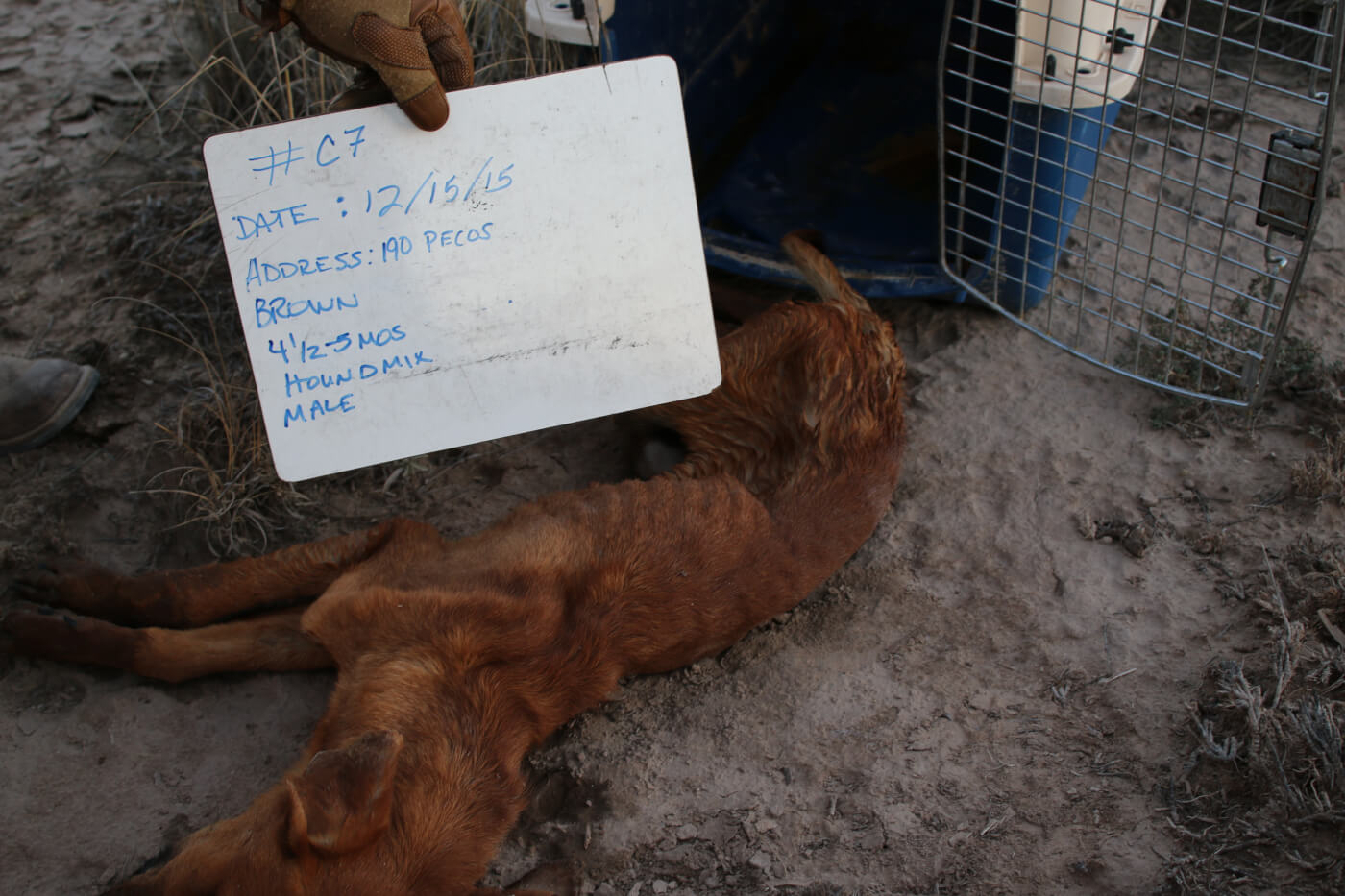 Allen and Sandra Quick, the couple who operated the so-called "rescue," were charged with eight counts of felony extreme cruelty to animals and 22 counts of misdemeanor cruelty to animals. In May, they pleaded no contest to all 30 counts. According to District Attorney John P. Sugg, the couple could face up to 34 years in prison. They could also be required to pay up to $62,000 in fines.
The Quicks were also found guilty of child abuse earlier this year. Their six children were—not so surprisingly—found to be living in conditions similar to those of the animals in the "rescue." According to the Alamogordo Daily News, Lee Wilder, the Otero County Sheriff's Office deputy who conducted the welfare check, testified that "the deplorable living conditions were of the worst he had seen in his 20-year law enforcement career." Testimony presented at trial indicated that the children were "filthy" and suffered from upper respiratory infections.
How Did This Happen?
The K9 and Feline Assistance Program was an approved "rescue" partner with the city of El Paso, Texas. Just prior to the discovery of the deceased dogs, the city had transferred approximately 32 animals to the property. Representatives with the city of El Paso admitted that it's possible that some of the dead animals could have been transferred from the city.

Animal shelters released animals to the Quicks in a bid to improve their "live-release rates." Under pressure to improve statistics and claim that they're "no-kill," a growing number of shelters are handing animals over to anyone who will take them—including animal hoarders and abusers like the Quicks—with no screening or follow-up.
Folks often think that these "rescue" facilities are the answer to the animal-overpopulation crisis, but nothing could be further from the truth. The K9 and Feline Assistance Program wasn't just unregulated—at least one animal shelter provided it with victims. These animals endured slow, lonely, painful deaths—hungry, thirsty, and trapped inside small plastic crates with no hope in sight. Had they remained at a properly run open-admission shelter, they would've either been adopted or painlessly euthanized in the arms of a professionally trained, compassionate person.
So What Is the Solution?
Trying to solve the animal-overpopulation crisis with "rescue" work is like applying a Band-Aid to a broken bone. Finding a home for one animal may save one life, but sterilizing one animal will save hundreds, if not thousands, of animals' lives by preventing generations of potentially homeless puppies and kittens from being born.
THIS is why it's so important to spay and neuter your animals. pic.twitter.com/5PGj2jmBJV

— PETA (@peta) February 20, 2017
In addition to researching a shelter before adopting, you can work to help get a spay/neuter law passed in your area. You can also ask your state legislators to pass laws that require "rescues" like the K9 and Feline Assistance Program to be regulated. Doing so will help to save countless lives. Click the button below to do more: