We've all seen the ribbons tied around trees on the side of the road, crosses stuck in the ground, and signs asking us to drive carefully—all reminders of lives that were lost in traffic accidents. Certainly, humans aren't the only casualties of reckless driving, so should they be the only ones honored? PETA doesn't think so.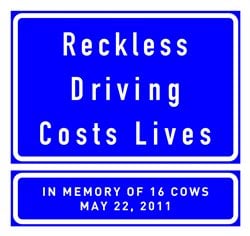 We're applying to Illinois' Fatal Accident Memorial Sign Program to post two road signs as a tribute to cows who were severely injured and killed on the state's roadways.
PETA has chosen the sites of two horrific accidents as the locations for our signs. In May, a tractor trailer tipped over on an overpass, spilling cows onto the road below. Cows who didn't die on impact or from being struck by cars languished in agony until they were finally euthanized. Another truck overturned in October after the driver fell asleep at the wheel. Six cows were killed by oncoming vehicles—again, many were left to suffer for hours from their injuries.
If humans are going to continue to sentence these animals to die in slaughterhouses, isn't erecting a small remembrance of a few of the millions who lose their lives every year the least that we can do, given that they die for no better reason than because someone craves the fleeting taste of their flesh?