Downed cows—those who are too sick or injured to stand up—are of little use to callous cattle auctioneers. So when a cow collapsed at a Texas livestock auction company, what did the employees do? They simply wrapped a chain around her leg, attached the chain to a truck, dragged the cow into a dirt lot next to the auction area, and left her for dead. With no food or water, she would have eventually died from dehydration or succumbed to her illness or injury.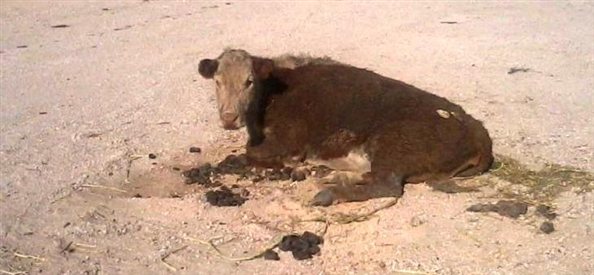 Someone saw the cow being dragged to the lot and left there, but when he saw that she was still in the same spot three days later, he called PETA. After making several phone calls to the auction company owner, we were able to convince him to euthanize the dying cow and spare her from one moment more of suffering.
Unfortunately, neither "downers" nor this kind of treatment of them is unusual on factory farms, at auctions, or at slaughterhouses. By simply swapping meat-based dishes for their scrumptious, meatless counterparts, we can avoid supporting facilities that treat living beings like broken-down farm equipment.
Written by Michelle Kretzer