Texas farmer Greg Nolen admits that mother cow Bellvia only became aggressive after giving birth and wanting to protect her baby. Nolen and Bellvia both gained internet fame recently after the new mother attacked him, landing him in the intensive care unit in a medically induced coma for 15 days—with 11 broken ribs, a collapsed lung, and a ruptured spleen, getting oxygen with the help of a breathing tube. Any human mother who fought back against a man who was stealing her baby would be hailed as a hero. So why are news reports and Nolen himself referring to this bovine mother as "psychotic," "mean," and "crazy" for doing the exact same thing?
BELLVIA WAS NOT PLAYING TONIGHT YALL!!!! I tried to avoid eye contact… #AggresiveCow #MeanHeffa pic.twitter.com/0alzdALk2k

— Stefania Okolie (@StefaniaOnABC13) October 29, 2019
Nolen says that after Bellvia gave birth, every time he got near her baby, she lunged at him. Tearing newborn calves away from their distraught, bellowing mothers is common practice on cattle farms. It's likely that Bellvia had seen it happen many times and was trying to prevent the same thing from happening to her baby and her. The calves are often sold for veal. On dairy farms, workers artificially inseminate cows on "rape racks," take their babies from them shortly after birth, and repeat the process to keep the mothers' bodies producing milk so that humans can take that as well.
Greg has been viciously attacked by his cow 2 times. 9 weeks ago she almost ended his life. Tonight when asked why he still cares for her he tells me he just can't give her up… but has a lesson he wants to share with others on how to protect themselves ….story at 10 #Abc13 pic.twitter.com/YopZ7iSmgF

— Stefania Okolie (@StefaniaOnABC13) October 29, 2019
But this determined mother never had a chance to keep her baby. Nolen dragged the calf away. After that, he says, "She went crazy." He told the Houston Chronicle, "[S]he lunged at me and knocked me down by the trough. … As I tried to get up, she hit me again and just started crushing me against it." Nolen's tenant, Sabrina Smith, ran over, grabbed a cane, and beat the mother cow until she retreated.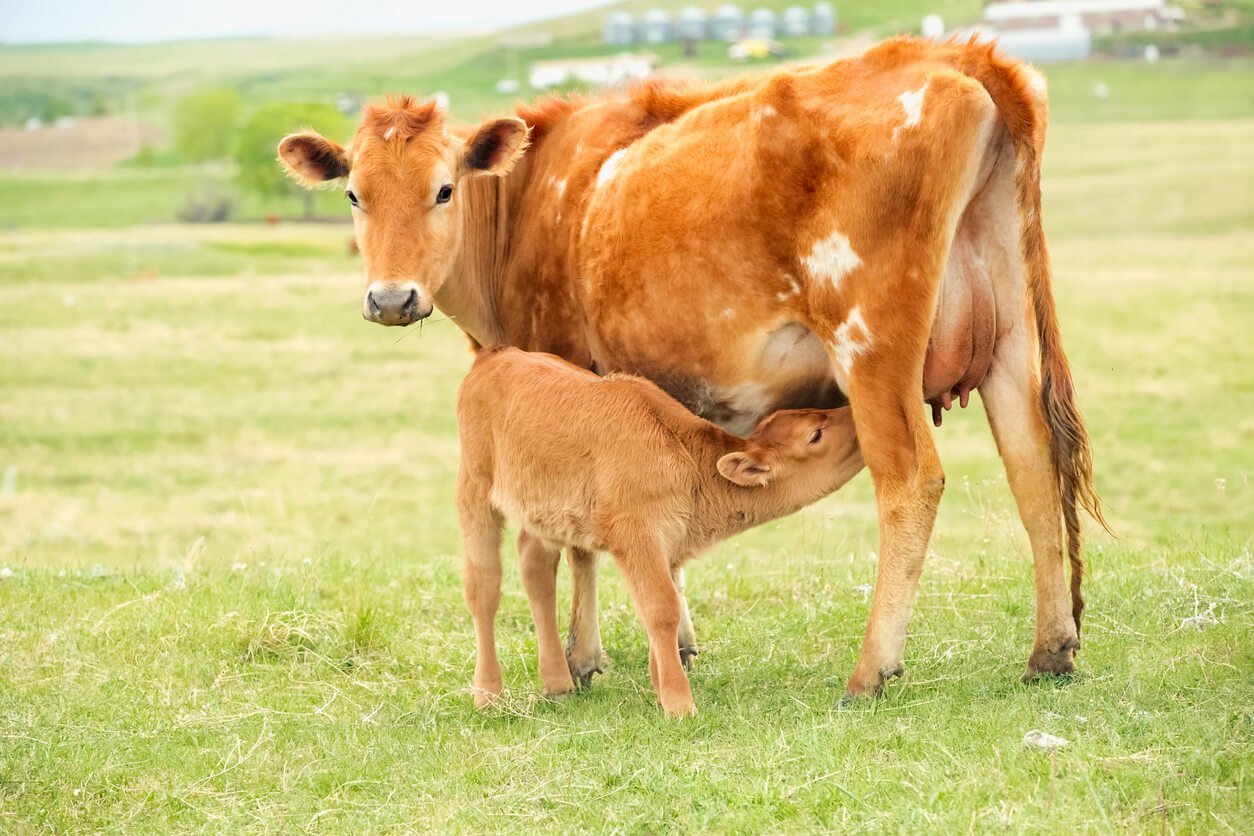 ©iStock.com/debibishop
Despite Bellvia's obvious pain and distress, Nolen said that he intends to keep breeding her and taking her babies away from her. "My intent is to have a facility where kids can come and pick out an animal, halter break them and raise them for heifer shows," he explained—mother/child bond be damned.
There are many, many reports of bovine mothers who've gone to great lengths to try to keep their babies from being taken away. Heartbreaking videos show cows who have just given birth running down the road, chasing the trucks with their newborns inside.
https://www.facebook.com/watch/?v=10159746674105434
Mother cow Maybelle wouldn't stop crying after being rescued from a dairy farm by PETA's friends at The Gentle Barn. The sanctuary staff soon realized that she was calling out for her stolen baby—and they didn't stop until they found him. Maybelle and Miles recognized one another's voices before they could even see each other.
No matter what species she is, every loving mother deserves to have the chance to raise her children. And it's understandable that any devoted mom would go "psychotic" after seeing her baby dragged away. Please, go dairy-free.