PETA activists will protest outside the UN Biodiversity Conference (COP15) in Montréal, Canada, to call on world leaders to stop the trade in endangered monkeys for the animal experimentation industry. Governments around the world will meet at the conference to discuss new targets for global action to slow down the disastrous loss of nature in the next decade.
From December 7 through 19, thousands of COP15 delegates from 192 countries will face truths and address the devastating biodiversity crisis that is unfolding right in front of our eyes.
Biodiversity crises are traditionally linked to habitat loss, pollution, overfishing, and overhunting. PETA adds one more: animal experimentation.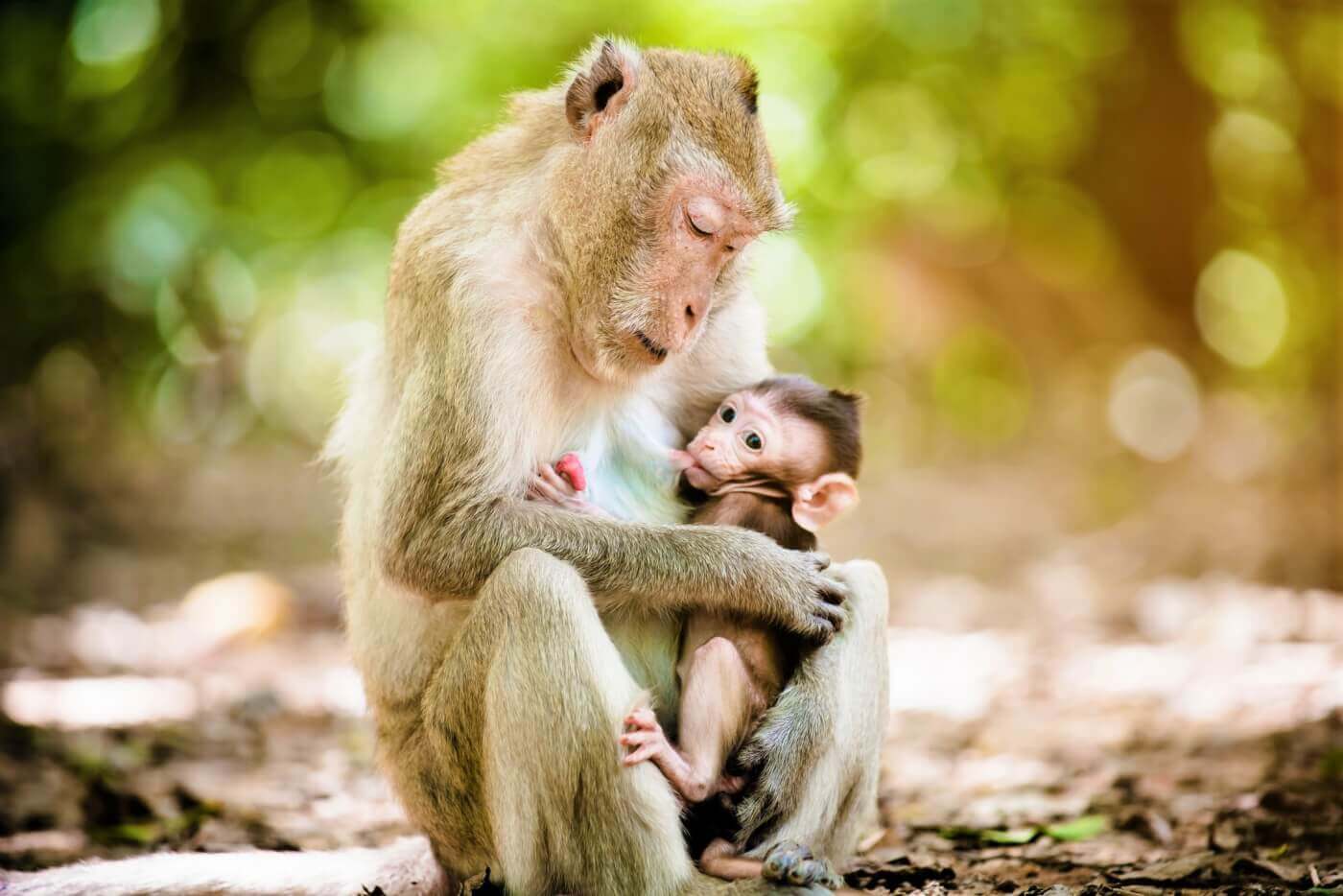 © iStock.com/ittipon2002
The experimentation industry's consumption of primates has pushed two species of monkeys—long-tailed macaques and pig-tailed macaques—to the brink of extinction, the implications of which are far-reaching. These monkeys are important seed dispersers, with far-ranging consequences in habitat formation and plant diversity. Macaques are parasite reservoirs, buffering humans from vector-borne parasites and reducing potential for pathogen spillover. The International Union for Conservation of Nature, the world's most comprehensive source of information on the global conservation status of animals, recently classified these monkeys as endangered species. Their numbers will decline by 50%—half!—over the next three generations if current trends continue.
The U.S. is the number one global importer of macaques for use in primate experimentation, supporting a cruel industry in which monkeys are extracted from their homes in Asia and Mauritius in order to sate the appetites of U.S. experimenters. Snatching monkeys from Asia is faster and cheaper than breeding them in this country, so a monkey-abduction pipeline pours thousands of them into the U.S. from overseas every month.
According to the 2021 report from The Long-Tailed Macaque Project, long-tailed macaques have been a target for biomedical experimentation since the 1960s:
From 2008–2019, at least 450,000 live long-tailed macaques, and over 700,000 "specimens" from an unknown number of individuals were part of this trade, with over 50,000 termed as wild-caught. These official trade numbers exclude laundering of wild-caught individuals as captive bred, harvesting for breeding center upkeep, [etc.].
The monetary value of the international trade was estimated to be around $1.25 billion from 2010 to 2019.
During the pandemic, U.S. experimenters claimed there was a monkey "shortage," which ignited the increase in the species' trade, both legal and illegal. Just last month, the U.S. Department of Justice indicted Cambodian officials and nationals, as well as staff from a monkey-breeding farm, alleging a scheme to sell long-tailed macaques abducted from their forest homes as those who were bred in captivity—felony violations of both the Lacey Act and the Endangered Species Act. Earlier this year, PETA learned that hundreds of endangered long-tailed macaques from Cambodia were flown to Montréal, reportedly destined for a monkey prison owned by Charles River Laboratories.
The serious danger of the primate trade has prompted the International Primatological Society to urge U.S. biomedical experimentation facilities to "end their use of wild-caught primates … when this requires the extended or permanent removal of individuals from their populations."
PETA urges COP15 attendees and world leaders to take the necessary steps to protect these critically important species from disappearing forever.
Tell the U.S. Centers for Disease Control and Prevention to shut down the monkey-abduction pipeline: