Update: PETA India has just announced that it will give its 2009 Proggy Award for International Leadership in the Field of Animal Rights to India's Central Zoo Authority (CZA) in recognition of the government organization's decision to ban the use of elephants in zoos and circuses.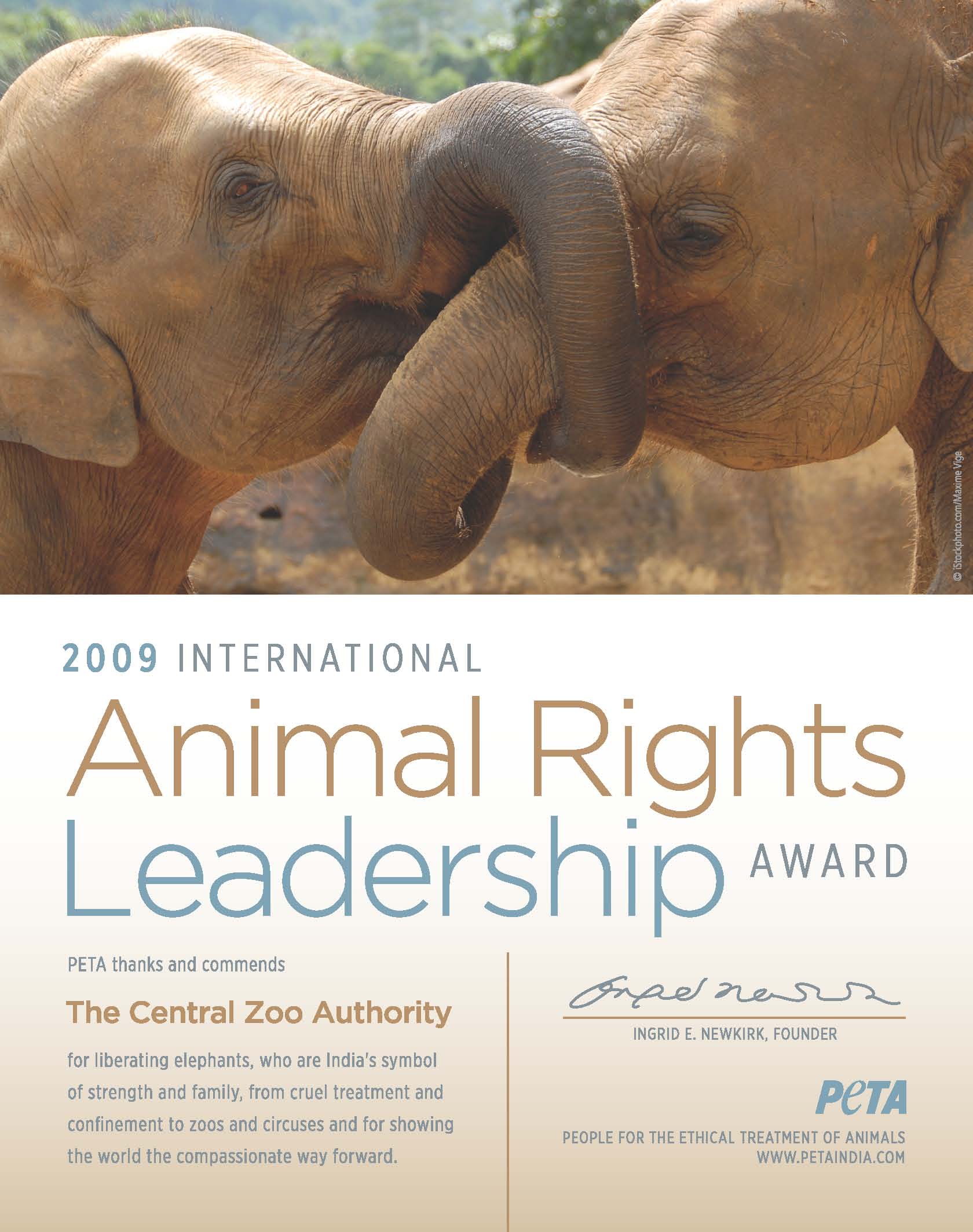 That's right. India, which is home to an estimated 23,900 to 32,900 wild elephants, will no longer allow its most prominent national symbol—the elephant—to be imprisoned in zoos or forced to perform in circuses. The move by India's Central Zoo Authority (CZA) comes after years of campaigning by PETA India to improve conditions for captive elephants (it has already succeeded in getting performing elephants banned from Mumbai and other cities). PETA India repeatedly expressed concerns to the CZA about the mental and physical suffering endured by elephants when they are forced to spend all their time standing on hard concrete surfaces while confined to cramped enclosures that severely restrict their movement. Now the government has announced that all the elephants currently living in Indian zoos will be transferred to elephant camps run by the Forest Department. The camps will be located near protected areas, national parks, and wildlife sanctuaries in India.
Back in 2005, PETA India embarked on an investigation of 14 major zoos throughout the country and found appalling neglect at every single facility. The group discovered hungry animals who were forced to forage among rotten food and garbage, animals who were confined to barren cages and enclosures without so much as a blade of grass, and animals who were deprived of shelter from monsoons and the blazing Indian sun.
At the Aurangabad Municipal Zoo in Maharashtra, a PETA India investigator found that the elephants were confined to a bleak concrete enclosure. All the elephants were chained, and one was tethered by both front legs with a spiked chain, effectively (and painfully) preventing him from moving more than a few shuffling steps in any direction.
After Rajkumar, an elephant at the Mumbai zoo, attacked his keeper, his intensive confinement prompted PETA India to file a lawsuit against the zoo. The court ruled in PETA India's favor, and Rajkumar was moved to another zoo in 2007.
Over the years, PETA India's campaign against the abysmal conditions for animals in captivity has garnered support from numerous celebrities, including UK Big Brother veteran Shilpa Shetty, Beatles guru Ravi Shankar, and Shankar's daughter Anoushka.
Congratulations to PETA India on this groundbreaking victory. Now, if only North American zoos and circuses would follow suit.
Written by Alisa Mullins