Yesterday, at Al Gore's book signing in Beverly Hills, it wasn't the former vice president who drew the most attention from the throngs of onlookers—it was our sexy Mother Earth who turned heads. The crowd showed Mother Earth all the love she's not getting from Gore, whose hypocritical addiction to meat is getting in the way of his call to go green.
Vivaciously verdant Mother Earth caused many people to skip Gore's event.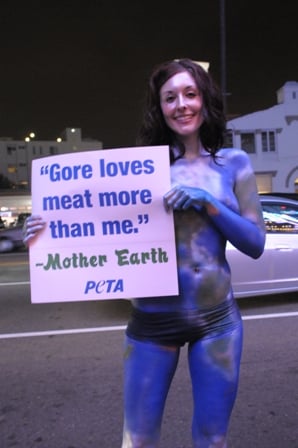 Even Gore has admitted that going vegan helps save the environment. And the official handbook for Live Earth—the concert series that Gore himself helped organize—states that not eating meat is the "single most effective thing you can do" to curb climate change. So why hasn't he taken our effortless Pledge to Be Veg yet? Apparently, the simple, delicious truth is just too inconvenient.
Written by Logan Scherer