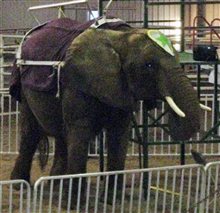 Courtesy of USDA
Over the years, the Liebel Family Circus has tried to evade scrutiny by operating under a variety of different names, but owner Hugo Liebel's deplorable treatment of animals continues to catch up with him. Having already been fined nearly $3,000 for violations of the federal Animal Welfare Act, Liebel has now been charged by the U.S. Department of Agriculture (USDA) with 33 new violations, including keeping an elephant named Nosey chained so tightly by two legs that she could barely move and allowing manure to accumulate in her feet, potentially exposing her to serious infections. Other violations charged include leaving a chained monkey on a pony's back unattended for an hour.
PETA has been filing complaints against the circus since a whistleblower contacted us in 2004 to let us know that he had been knocked off his feet by Nosey. Liebel has repeatedly failed to provide Nosey with adequate veterinary care for a chronic skin ailment and her overgrown footpads. (Foot ailments are the leading cause of death in captive elephants.) We've filed more than a dozen complaints since 2009 about Nosey and the other animals traveling with Liebel, including several that were filed just prior to the USDA inspections that resulted in some of the charges.
USDA charges and fines are always welcome, but they won't necessarily put circuses using animals out of business. It is up to the public to put an end to the abuse by refusing to buy tickets.