Arthritis, crippling injuries, and chronic pain often come with age. I'm speaking, of course, about elephants who are forced to perform in circuses. The painful tricks and hours spent standing in chains on concrete floors destroy their legs and feet.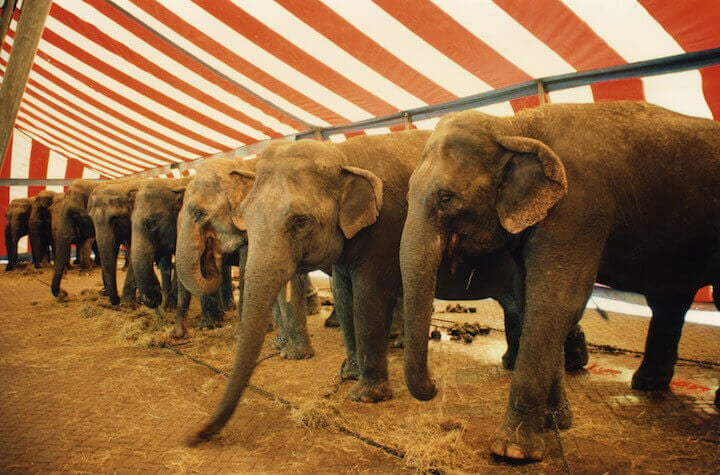 PETA member Marilyn Flynn, now 84, has been working to protect senior elephants and other animals who are abused in circuses for more than 25 years. She can often be found organizing protests or writing letters to newspapers. And according to the circus that had her arrested on a complaint, she might also be found taking down circus signs.
Someone in tiny Peconic, New York, called police to report that Marilyn was removing Cole Bros. Circus advertisements from Main Road. When police visited her at her home in neighboring Cutchogue, they allegedly found Cole Bros. signs.
"I'm certain that if the sponsors of the circus told their children and grandchildren how the elephants came to be in the circus, they'd have nightmares," Marilyn wrote in a letter to her local newspaper. "These animals have been stolen from their mothers at a very young age … and mistreated in the course of their training to do silly tricks, and worse, rise on their hind legs, putting all their massive weight on their joints."
Police reluctantly took the endearing woman to jail and quickly released her. Marilyn will soon present her case before a judge, who should recognize that whoever took the signs down did so for the greater good.
What You Can Do
Show your support for Marilyn by helping ailing elephants now.