More than a dozen PETA members in Tampa, Florida, recently got a jump-start on telling Ringling Brothers and Barnum & Bailey Circus exactly what they think of the cruelest show on Earth. The protesters showed their disapproval by gathering along the route that the circus's animal train took to the St. Pete Times Forum, where the circus will be performing.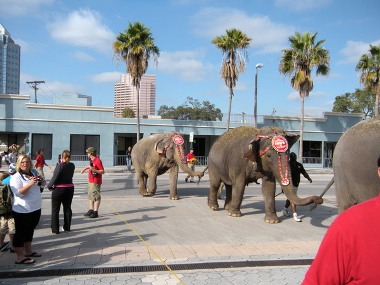 Um, excuse me. Is parading 3-ton animals through the streets safe for anyone?
The protesters received many waves and honks of support from rush-hour drivers, and they plan to reunite for more demonstrations during Ringling's shows.
In other big-top news, two Lansing, Michigan, businesses dropped their sponsorship of the Caravan Circus after learning from PETA and a local student group that elephants  in circuses are beaten with sharp bullhooks and spend most of their lives in chains. PETA is sending both companies a Compassionate Business Award to thank them for taking a stand against circus cruelty.
Written by Michelle Sherrow