Chrissie Hynde never squanders an opportunity to make an animal rights statement. So when the music legend arrived in New York City for her concert, she rocked her way up Broadway to the Beacon Theatre in one of the highly anticipated e-carriages that Mayor Bill de Blasio plans to replace horse-drawn carriages with.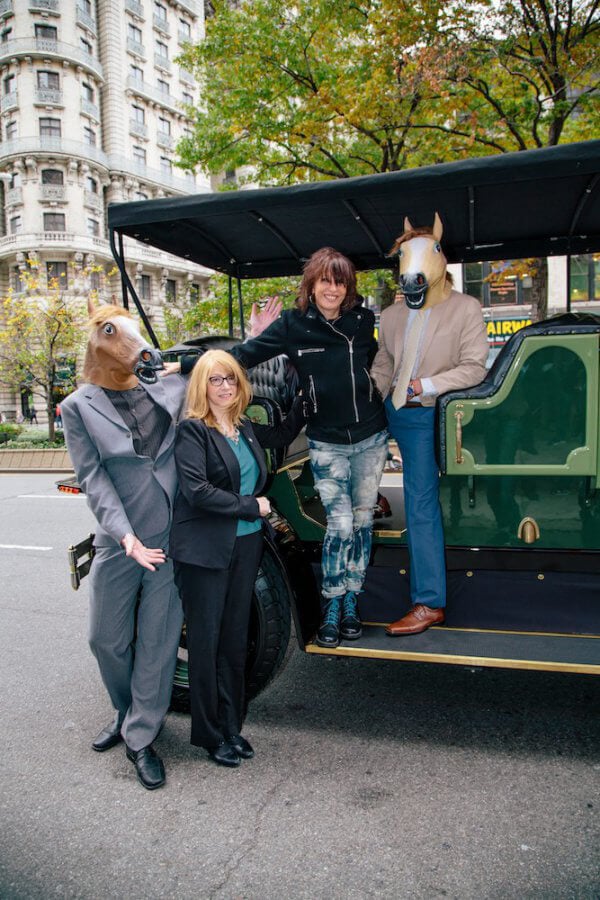 The princess of punk and her horseless carriage arrived to a crowd of cheering supporters, media, and Assemblymember Linda Rosenthal, who joined Chrissie in speaking about the electric classic car replicas—which are eco-friendly, romantic, and, unlike the carriages pulled by abused horses, cruelty-free.
"If you want an historic trip through the city of the New York, and a romantic trip through Central Park, we suggest you use [one] of these instead of the carriage horses—and we hope we see the end of them very soon," Chrissie said. She also joked that years ago—before she knew how horses suffer in the carriage industry—she got married in a horse-drawn carriage, and she hopes the carriages go down in flames, just like the marriage did.
After Chrissie went in for her sound check, members of the media were able to take a spin in the cool classic car. Not only was their ride eco-friendly and humane, it was also much safer. Accidents involving horse-drawn carriages are common because the horses are easily spooked—and as a result, the animals, passengers, and bystanders are often injured. Everyone who saw the classic automobile said that they couldn't wait to see the cars come and the carriages go!
PETA, Mayor de Blasio, and New Yorkers for Clean, Livable, and Safe Streets can't either, and we're all working to make it happen as soon as possible.