Dogs are family. Loving guardians across the country would do anything to keep their animal companions safe, happy, and healthy. In many regions, people with smaller dogs know that this responsibility comes with a fear that their dog may be attacked or mauled by a wild animal (like a coyote or a hawk), but certain larger breeds of dogs can also pose a threat almost anywhere. Now, however, thanks in part to a viral picture on Facebook, guardians of small dogs are discovering an important step that they can take to keep their companions safe. Meet Chloe, and be sure to check out her epic, spiked Coyote Vest:
Chloe now sports a Coyote Vest on our walks to protect her from any future attacks. I hIghly recommend it for all small dogs. It's made of lightweight Kevlar and is covered with spikes.

Posted by Karen Porreca on Sunday, February 18, 2018
Shared over 97,000 times, this image only tells half the story.
Weeks before her Coyote Vest photo sparked a huge online conversation, Chloe was standing near a pit bull who was thought to be well socialized with other dogs, when suddenly, the powerful dog attacked her, inflicting a large gaping wound on her back. Over time, and with proper treatment, her wound healed, but the scar tissue left behind has affected her gait and pace—leaving this sweet girl walking much more slowly than she did before. Warning: The pictures below are graphic, but they highlight a risk that smaller breeds face.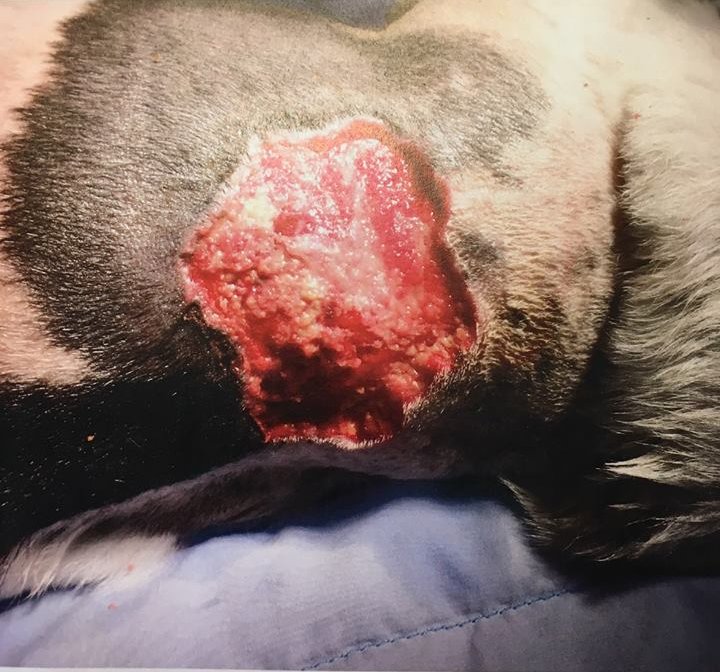 Thousands of Dogs Die in Attacks and Mauling Incidents Each Year
Not only does a protective vest made of lightweight Kevlar and covered with spikes (and optional porcupine quills, shown in some of the photos below) make your dog look like a bad-ass boss (see Chloe for proof), it could also save his or her life by providing protection from the teeth or talons of an aggressive, larger animal.
The viral post isn't just being shared on Facebook—it's also receiving thousands of comments, many of them from people who have horror stories similar to Chloe's. Others are simply expressing relief that a product like this exists and their excitement about buying one for their own dog.
Check out these other dogs rocking their Coyote Vests:
And there's more good news: Another type of protective vest for dogs is also available. Like the Coyote Vest, the K9 Guard is lightweight and made with Kevlar, but it comes in larger sizes and has a bit more coverage. Also, it's smooth (without spikes), which might be better for dogs who spend their time outdoors in play groups or with small children.
Taking dogs on long walks is one of the best things that you can do for their physical and emotional well-being. It can also strengthen the bond that you share. That's why it's so important to make sure that everyone is protected and feels safe and secure.
---
Spread Awareness: Share Chloe's Story Today