Following multiple investigation requests from PETA, the Chicago Inspector General (IG) launched a probe of the city's regulation of circuses and other animal exhibitors. Now, the IG has released its report, with recommended changes to licensing and permitting procedures.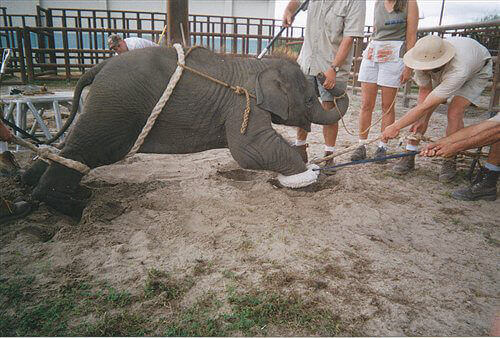 Behind-the-Scenes Scandal at Ringling
Public records about Chicago's inspections of the notoriously inhumane Ringling Bros. circus in November 2010 documented numerous untreated medical conditions that appeared to clearly violate state and local animal protection laws. So in December 2010, PETA filed an investigation request asking that the IG determine why, in the face of compelling evidence of cruelty and neglect, the City of Chicago did nothing to provide relief to suffering animals or to hold Ringling responsible for its actions.
As detailed in PETA's request, several issues were noted during the 2010 inspection:
Renowned elephant expert Margaret Whittaker—a former zookeeper and elephant manager with more than 20 years of experience managing, training, and caring for elephants—noted that the feet of the elephant Nichole "have significant issues" that hadn't been properly treated. Foot problems are the leading reason why captive elephants are euthanized, and in PETA's view the failure to adequately address this serious medical issue clearly violates both state and local laws
Whittaker also observed that Nichole's overall condition was "shocking. She appears uncomfortable and has many physical conditions that would support this assumption. Her swollen front legs and overall foot health are of grave concern."
Whittaker remarked that another elephant, Karen, had "a serious abscess that should be treated" on a toenail, a likely "degenerative" foot condition that "will worsen over time and eventually cause her more serious foot problems," and a tooth that "is migrating to the center of her mouth" and may "have devastating results," leaving her unable to "properly process food."
Whittaker expressed particular concern about Sara, a young elephant already suffering from "a myriad of problems, both physical and psychological." Sara's feet, she asserted, "are in need of care," and her "front leg was stiff and when asked to lift her front right foot, she could not lift it normally or fully which suggests it is either painful to do this move or she has some permanent damage to the leg that prevents her from moving it normally." Whittaker concluded that Sara's "conspicuous foot and leg problems that are likely painful lead me to the conclusion that this elephant experiences periods of distress."
Chicago Animal Care and Control (ACC) veterinarian Dr. Audrey Keller found that "[p]er Ringling veterinary staff, no medication was currently being administered to any elephant"—despite the fact that multiple elephants presented foot problems and stiffness. According to Dr. Keller's report, "Medical care has not been appropriately addressed to cover issues such as draining tracts from toe nail abscesses."
Despite this unequivocal information, no action was taken, and these elephants were forced to perform 20 times during Ringling's Chicago stand. In November 2011, PETA followed up with the IG's office to renew its request for an investigation.
Now, just before Ringling's 2012 Chicago appearances, scheduled for November 4 to 25, the IG has issued a report calling for changes in the way that the city handles circuses and other animal exhibitors, recommending the following:
The city should "require significantly more information" with permit applications, including veterinary records.
ACC should exercise its recently codified authority to make known "rules and regulations regarding the specific requirements necessary to approve or deny a license or permit application," noting that ACC has "significant discretion in this area." ACC has responded that it is working toward this goal.
ACC should "provide additional training for its inspectors, or work with outside specialists, to ensure that all ACC inspections are conducted competently," noting that, "[c]urrently, not all inspections are performed by those who are trained in identifying issues specific to the animals included in a given exhibit." In response, ACC has "pledged to seek additional training for inspectors and veterinarians to identify issues specific to exotic animals included in Chicago exhibits."
The report also notes that under a new ordinance, the executive director of ACC has "additional discretion to work with a permittee to correct any violations or to issue fines or impose summary closure upon a finding of imminent hazard to the health of the animals."
PETA will be following up with the city, particularly in light of the fact that Nichole, Karen, and Sara are all scheduled to appear in Chicago again over the next few weeks and a recent independent expert's inspection report reveals that these animals' health still remains of significant concern.
What You Can Do
Please take a minute of your time to help spare Karen, Nicole, and Sara from additional suffering by politely urging Secretary of Agriculture Thomas J. Vilsack to stop folding to pressure from Ringling and to immediately seize these ailing elephants before it's too late—foot disorders and arthritis are the leading reasons for euthanasia in captive elephants.