Jamie Oliver's mom, Sally, is a gourmet in her own right, with a restaurant, The Cricketers, in the U.K. After PETA U.K. learned that she was serving foie gras, they contacted "The Naked Chef's" mom and told her the naked truth about the suffering of ducks and geese who are slated to be killed to produce this gastronomical atrocity, and she quickly pledged never to serve it again.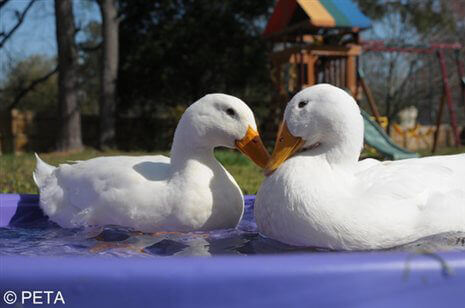 People with rescued companion ducks say that the animals have a zest for life that rivals that of any puppy or toddler. Quackers and Crackers (pictured above), two such ducks whom PETA rescued from a life of deprivation and neglect, love to play in the sprinkler with their guardian's children, blow bubbles in the mud, and engage in mock hay-throwing battles. On foie gras farms, ducks like Quackers and Crackers are force-fed four times a day until their livers swell to as much as 10 to 12 times their normal size. They never, ever get to swim or splash in the water, something that ducks naturally desire to do every day.
Foie gras is so inhumane that its production has been banned in the U.K. and several other countries and in the state of California. Until the rest of the U.S. follows suit, it's up to us to speak out and ask restaurants and stores not to sell this delicacy of despair.
Written by Michelle Sherrow