In honor of the Year of the Ox, PETA Asia-Pacific's "Go Veg!" cow hit the streets to encourage shoppers to "make it a good year for cows." Welcomed with open arms (and kids jumping on his back), the cow traveled from Taipei to Hong Kong to Manila. He also made a quick pit stop at the U.S. consulate in Hong Kong to welcome Barack Obama into office. Check out photos from some of their recent demos below:
Ringing in the New Year in front of Taipei City Hall, the cow handed out free soy milk to let people know that cows on dairy farms are forcibly impregnated and have their babies torn away from them within days of birth.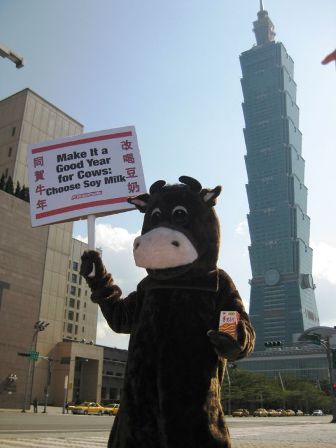 In Manila and Hong Kong, he encouraged shoppers to give healthy, humane vegetarian meals a try. On today's factory farms, cows are routinely branded, dehorned and castrated without anesthesia. No cow deserves that kind of abuse, especially in a year dedicated to them. Don't ya think?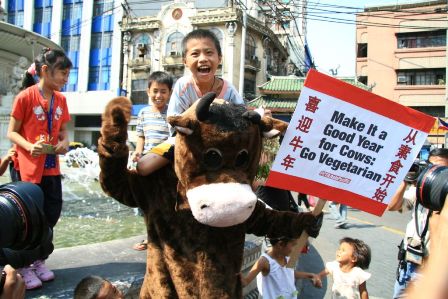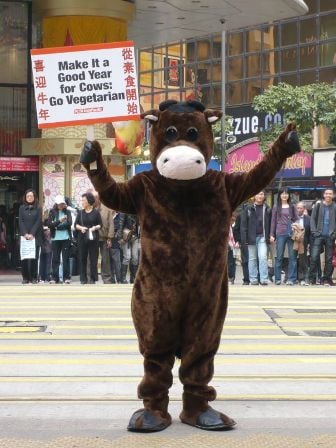 Of course, the always-scandalous PETA Asia-Pacific couldn't protest the meat industry without a throwing in a little sex appeal. No blow-up dolls were involved this time, but Sydney's lunchtime crowds got some serious eye candy. Wearing little more than painted-on words mimicking a butcher's diagram, a pair of activists held signs reminding passersby that "all animals have the same parts."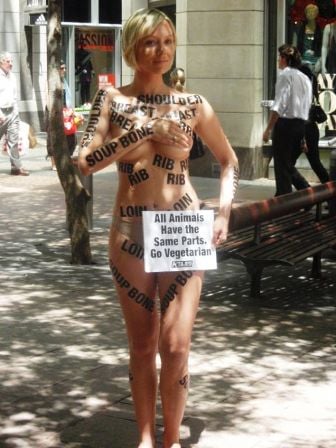 The Year of the Ox sounds a little bit like a year-long birthday party for cows to me, and I can't think of a better gift than to refuse to eat them.
Written by Liz Graffeo