Carey Hart has so many job descriptions that he's practically a one-man employment agency. He's a professional freestyle motocross rider, successful business owner, AMA team owner, and reality TV star, and now he can add one more line to his résumé: anti-fur model for PETA.
That's right! Hart's got heart. He's so passionate about the fur issue that he's starring in our latest "Ink, Not Mink" ad. OK, enough from me, now feast your eyes on this: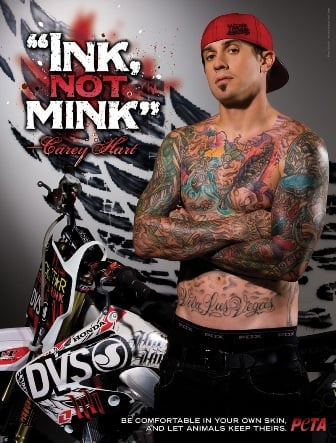 Phew, I know, he's definitely easy on the eyes. We've also got some fantastic interview footage in which Carey calls fur-wearers "petty" and "shallow" and also describes how ex-wife, Pink, got him involved in animal rights.
Check it out:
You didn't think that was all we had to offer, did you? Just for a little extra somethin', we're giving away a FOX jersey autographed by Carey himself. All you have to do to enter is leave a comment telling us what you think about people who wear fur. The contest ends on February 15, 2009, and we'll pick the lucky winner on February 16, 2009. Make sure to read our privacy policy and terms and conditions, as you're agreeing to both by commenting.
Good luck!
Written by Christine Doré