After an unsuspecting consumer was horrified to discover that a glue trap she had purchased in an attempt to catch wasps instead ensnared—and ultimately led to the death of—several small birds, her warning to others consumers quickly spread. Retailers in Canada took notice.
This TrapStik is sold at other retailers in Ontario as well. If you have one please take it down and discard it. These story is so sad. These were beautiful little chickadees. Listen Live:CHFI.com

Posted by 98.1 CHFI on Monday, July 17, 2017
https://twitter.com/PFTrudel/status/887025872468836353
According to reports, the glue trap that caught seven chickadees after it was laid in a gutter was purchased at an Ontario Real Canadian Superstore, which is owned by Loblaw Companies, Ltd., which almost immediately made the decision to pull the glue trap seen in the upsetting images from store shelves in the wake of the post going viral—and the company wasn't alone. Three other companies—Walmart Canada, Sheridan Nurseries, and Home Hardware Stores—also stopped carrying this particular glue trap, but there's still more work to be done.
Animals will continue to suffer wherever glue traps of any type or brand are sold or used.    
Glue traps are completely indiscriminate. PETA fields calls on a regular basis from distraught individuals who have discovered birds, lizards, snakes, bats, chipmunks, squirrels, and even their own animal companions hopelessly stuck to these sticky boards.
These traps rip patches of skin, fur, and feathers from the animals' bodies as they struggle to escape, and many animals even chew off their own legs trying to get free. Some animals get their faces stuck in the glue and suffocate, which can take hours. What's more, glue-trap manufacturers generally direct consumers to throw animals into the trash along with the trap, where it can take days for trapped animals to die from exhaustion, injury, shock, dehydration, asphyxiation, or blood loss—an undeniably cruel fate for any feeling, terrified individual to endure.
The Centers for Disease Control and Prevention warns against the use of glue traps because animals who are caught in them lose control of their bodily functions as they struggle to escape. Trying to control unwanted "guests" with glue traps also usually fails to address the source of the problem—more animals will simply move in to take the place of those who have been killed.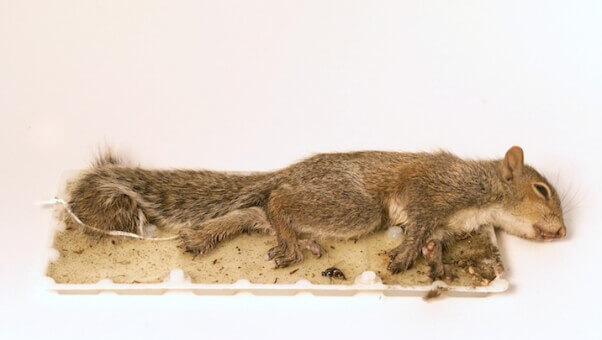 Removing this particular brand of glue trap from Canadian retail shelves is a great first step, but PETA will continue to ask all companies to build a reputation for kindness to animals by ending the sale of all glue traps, too.
Dozens of retailers—including CVS, Dollar Tree, Rite Aid, Walgreens, and many others—have banned the sale of glue traps, and more than 186 well-known companies and institutions have prohibited their use, including The Home Depot, Goldman Sachs, JPMorgan Chase & Co., the New York City Police Department, Public Storage, U-Haul, and nearly 50 airports, such as Boston Logan International Airport, Hollywood Burbank Airport, and Indianapolis Metropolitan Airport.
What You Can Do
If you see a glue trap, fold it in half and throw it away so that no animal is at risk of getting stuck. If you encounter an animal—or animals—stuck to a glue trap, pour a small amount of any kind of cooking or baby oil onto the stuck areas and gently work them free.
And for humane ways to help control intruding animal visitors on your property, check out our tips for dealing with bugs or rodents.