A group of Tibetan Buddhists now have 534 times the good karma—for their good intentions, anyway. The group gathered at the fishing hub of Gloucester, Massachusetts, on the anniversary of the first sermon that Buddha taught, and they purchased 534 lobsters, sailed out into the Atlantic, and set them free. One lobster liberator said: "It's rethinking the way you normally see these creatures. You're supposed to view them equally. Their happiness is as important as your happiness, their suffering is as important as your suffering."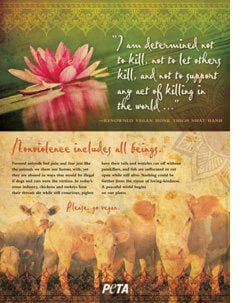 The group's hearts were in the right place, and the lobsters undoubtedly appreciated a second chance at freedom. But the seafood wholesaler they purchased the animals from profited from the sale and will no doubt continue plying his trapping trade, while the lobsters risk being caught again and ending up in a pot of boiling water. PETA sent a letter to the group suggesting that instead of purchasing lobsters next year, they could potentially save even more animals by asking all their members to go vegan for a day—and preferably beyond.
Considering that every vegan saves more than 100 animals a year, going vegan is one of the most important things that any of us can do to prevent suffering. Get started improving your karma today by ordering a free vegetarian/vegan starter kit.
 
Written by Michelle Sherrow