Update: Thanks to Gov. Jerry Brown, California has become the first state to ban captive orca breeding, ensuring that future generations of orcas will not endure the deprivation, stress, and frustration of being trapped in a tiny concrete tank. As PETA celebrates this historic move, we urge people everywhere to think of this as a first step—and help protect orcas by steering clear of abusement parks like SeaWorld until all the animals held in captivity are moved to seaside sanctuaries.
This law will still allow for SeaWorld's new "educational orca encounters" which will continue to teach the harmful message that orcas are ours for entertainment. Orcas will still jump and splash for dead fish in the same tiny concrete tanks. People should continue to boycott SeaWorld and other marine mammal parks until they stop using animals and move the orcas to seaside sanctuaries.
Urge your state representative to support the ORCA Act, which would ban orca breeding throughout the US.
Originally published on 8/30/2016
California Gov. Jerry Brown was greeted at the state capitol today by several demonstrators who were dressed in orca costumes to urge him to sign a bill passed by the state senate that would prohibit marine abusement parks and other businesses from breeding orcas.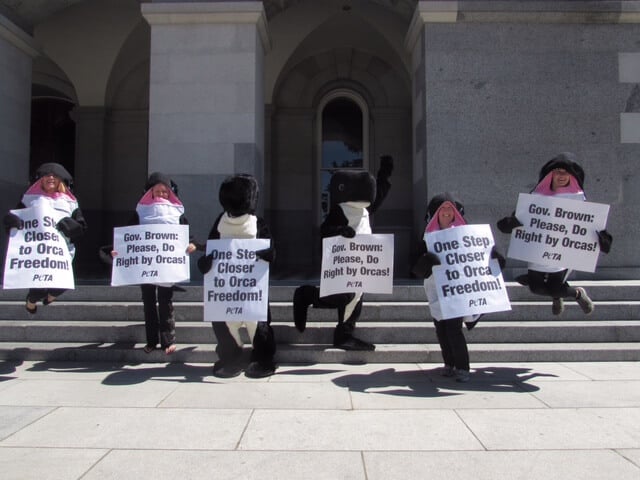 In addition to banning captive orca breeding, the legislation would also prohibit California businesses from exporting captive orcas out of North America. Violators would face fines of up to $100,000.
In nature, orcas choose their own mates. But captive breeding programs use forcible artificial insemination and other unnatural methods to create more orca prisoners. Male orcas are trained to float on their backs, and trainers masturbate them to collect their sperm. Females are artificially inseminated and forced to breed at a much younger age than they would in nature.
"Considering what we know now about orca intelligence and sensitivity, there's no justification for letting businesses breed more of these animals to endure chronic deprivation in tiny concrete tanks," said PETA Executive Vice President Tracy Reiman. "PETA urges Gov. Jerry Brown to sign this bill the moment that it lands on his desk."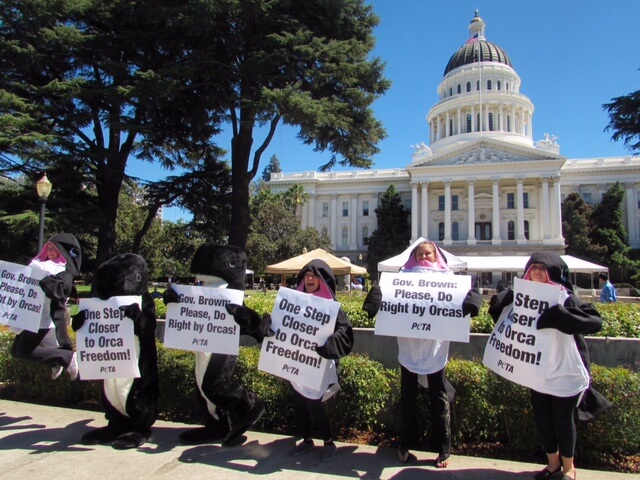 In the ocean, orcas share intricate social relationships, work cooperatively to find food, and can travel up to 100 miles every day. But orcas in captivity are separated from their families—including babies who are stolen from their mothers—and reduced to swimming in endless circles.
The California legislature failed to pass a 2014 law that would have freed orcas from marine parks. However, the California Coastal Commission played a pivotal role in persuading SeaWorld to end its orca-breeding program. The latest bill would ensure that SeaWorld keeps its word and would prevent any other organization in California from starting a similar captive breeding program in the future.
We urge Gov. Brown to take this giant leap forward for orcas imprisoned in California marine parks, just as he recently did for animals in circuses by banning bullhooks.
What You Can Do
We can all help end orca captivity. Here are five ways that you can help orcas in 60 seconds.