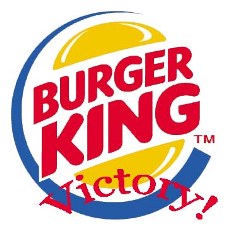 Burger King has announced a series of animal welfare improvements that put it right at the forefront of the fast-food industry in terms of holding its suppliers accountable for the way they treat their animals. As of today, the company will be requiring 2 percent of its eggs to come from hens who are not confined to battery cages, buying 10 percent of its pork from farms that don't use gestation crates, and rewarding suppliers that use "controlled atmosphere killing" (by far the most humane method available) instead of killing chickens by slitting their throats and dragging them through scalding tanks. These percentages, which amount to a huge number of animals, could be doubled by the end of the year.
These changes have been a long time coming. You may remember PETA's "Murder King" Campaign, which we called off in 2001 after the company agreed to make significant improvements in its standards, including conducting periodic animal welfare audits. Since then, PETA has been working behind the scenes with the company to improve conditions for the animals it uses for its restaurants. This new animal welfare plan makes Burger King an industry leader, and it sends a strong message to other fast-food companies (including one company which will remain nameless, but whose initials could stand for Killing Friendly Chickens) that are now going to have to play catch-up in a big way, which means good things for animals across the board.
For anyone whose reaction to this news is all, "WTF? That still means that 98 percent of BK's eggs come from battery cages and 90 percent of its pork comes from gestation crates," the short answer is that we're working on it, and that going vegetarian (and gently encouraging your friends to do the same) really is a fantastic way to opt out of all that unhappiness. But in the meantime, props up to Burger King for getting the ball rolling in a big way. Here are a few resources if you want some more info on this huge victory for animals:
P.S. Burger King also has a veggie burger.