Update: Another one bites the dust! Because of the public outcry following Bob Barker's letter to lawmakers on PETA's behalf (see below), Wyoming has become the latest state to shelve an "ag gag" bill designed to protect animal abusers on factory farms by preventing undercover investigations from being conducted. The irresponsible and dangerous legislation, House Bill 126, died in committee on February 12. Afterward, one of its cosponsors said that the negative attention surrounding the bill was a factor in setting it aside.
Our thanks go out to everyone who responded to PETA's action alert. Why not celebrate this victory by sending your not-yet-vegan friends a link to Meat.org, where they can view footage obtained—legally—from undercover investigations on factory farms?
Originally posted on February 8th, 2013:
PETA pal and TV legend Bob Barker has once again stepped up for animals—this time in Wyoming, where legislators are considering House Bill (H.B.) 126, a measure specifically designed to protect animal abusers within the intensive-agriculture industry, even from law enforcement.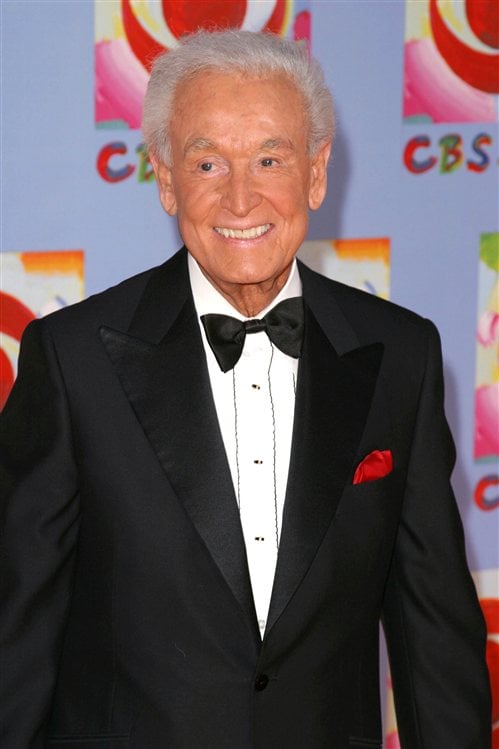 © StarMaxInc.com
Bob, a lifelong Republican, has urged the Republican-majority Senate to reject the bill, which could prevent undercover investigators from collecting evidence of routine and systematic animal abuse on farms that is crucial in helping prosecute abusers. Undercover investigations by PETA have revealed the routine beatings, mutilations, sexual abuse, and other severe cruelty to animals prevalent within the meat, dairy, and egg industries and often lead to criminal charges and convictions, including in Iowa, North Carolina, Oklahoma and West Virginia.
In his letter, Bob writes, "Americans today want better treatment of animals killed for food, not for their legislators to hide illegal cruelty on farms behind locked doors. Over the last few years, I've been joined by figures from all walks of life, from Republican strategist Mary Matalin to animal welfare expert Temple Grandin, in opposing bills similar to H.B. 126, and legislators have listened, as such bills have died or been tabled by sponsors in Florida, Illinois, Indiana, Minnesota, Nebraska, New York, and Tennessee as well as Arkansas, the second-largest poultry-producing state in the nation."
What You Can Do
If you are a Wyoming resident or you know some, please urge (or get them to urge) your state senator to join you and Bob Barker in opposing H.B. 126 today!

Residents of Indiana, Nebraska, and New Hampshire can also contact their legislators to urge them to reject similar bills that have arisen in the agriculture industry's desperate attempt to thwart consumers from learning the truth about the gruesome life and miserable death of animals on factory farms.