Update: In one of the pettiest pieces of pork-barrel politics we've seen in a long time, North Carolina state Rep. Roger West, who just so happens to be a sponsor of Brasstown's annual New Year's Eve Possum Drop, has introduced Senate Bill 60, also sneeringly known as "The Opossum Right-to-Work Act."
At face value, the bill appears to be simply a way to skirt a judge's recent ruling that outlawed the cruel event. But it's actually far more insidious than that—it would also strip other wildlife protections and would allow wild animals to be held in captivity for unspecified periods of time, put on display for profit or publicity, and exploited for some unspecified "other purpose." The bill even seeks to exempt some activities from the state's anti-cruelty law. TV icon Bob Barker has sent a letter to members of the North Carolina Senate urging them to reject the bill, and if you're a North Carolina resident, we hope you will do the same and get all your neighbors to weigh in, too.
Originally posted on November 14th, 2012:
After the North Carolina Wildlife Resources Commission (WRC), despite an objection from PETA, issued a made-up permit to Clay Logan to possess an opossum for his cruel annual New Year's Eve "Opossum Drop"—in which a terrified opossum is abducted, held captive, then suspended and lowered into a horde of boisterous revelers—at his general store in Brasstown, PETA took the matter to court. Now the verdict's in, and the animal with the gray fur scored a victory over the folks with the red faces—and necks.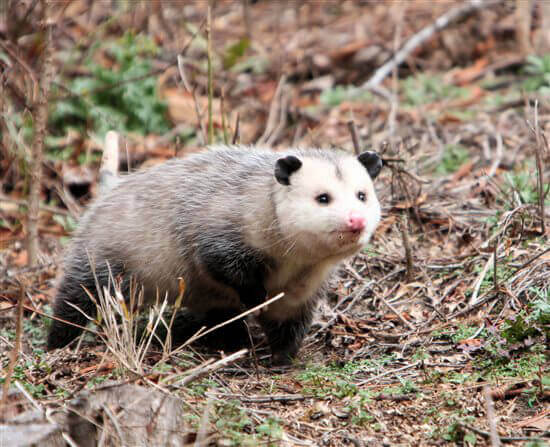 That's right, y'all: Senior Administrative Law Judge Fred G. Morrison Jr. ruled in PETA's favor, finding that in North Carolina, citizens "are prohibited from capturing and using wild animals for pets or amusement" and that the "WRC has no authority to issue any permit to Logan for the unlawful public display of a native wild animal at the Opossum Drop Event." As a result, the WRC may not "issue any permit or license for possessing and publicly displaying a live opossum for use in an 'Opossum Drop' event or for any other public display of a live opossum or other native wild animal."
Each year, several weeks prior to New Year's Eve, Logan has captured an opossum from the wild and confined the animal before hoisting him or her high into the air on New Year's Eve, and then, with a raucous crowd cheering and the noise of fireworks, live music, and the firing of muskets and cannons, lowered the frightened animal into the fray. Opossums are shy animals who are terrified of humans—their primary predator—and vulnerable to stress-related conditions because of captivity, including capture myopathy, which can result in death days or even weeks after release back into the wild.
What You Can Do
Causing animals pain or distress should never be cause for celebration. Learn more about entertainment that doesn't harm animals as well as how to live in harmony with wildlife.