Here's a colorful new tool for animal defenders: Because many fishers have chosen to spare rare blue lobsters after catching them off the coasts of Maine, New Hampshire, and New Jersey and around the world, PETA is releasing a new dye kit that makes it possible to give all lobsters the same blue hue.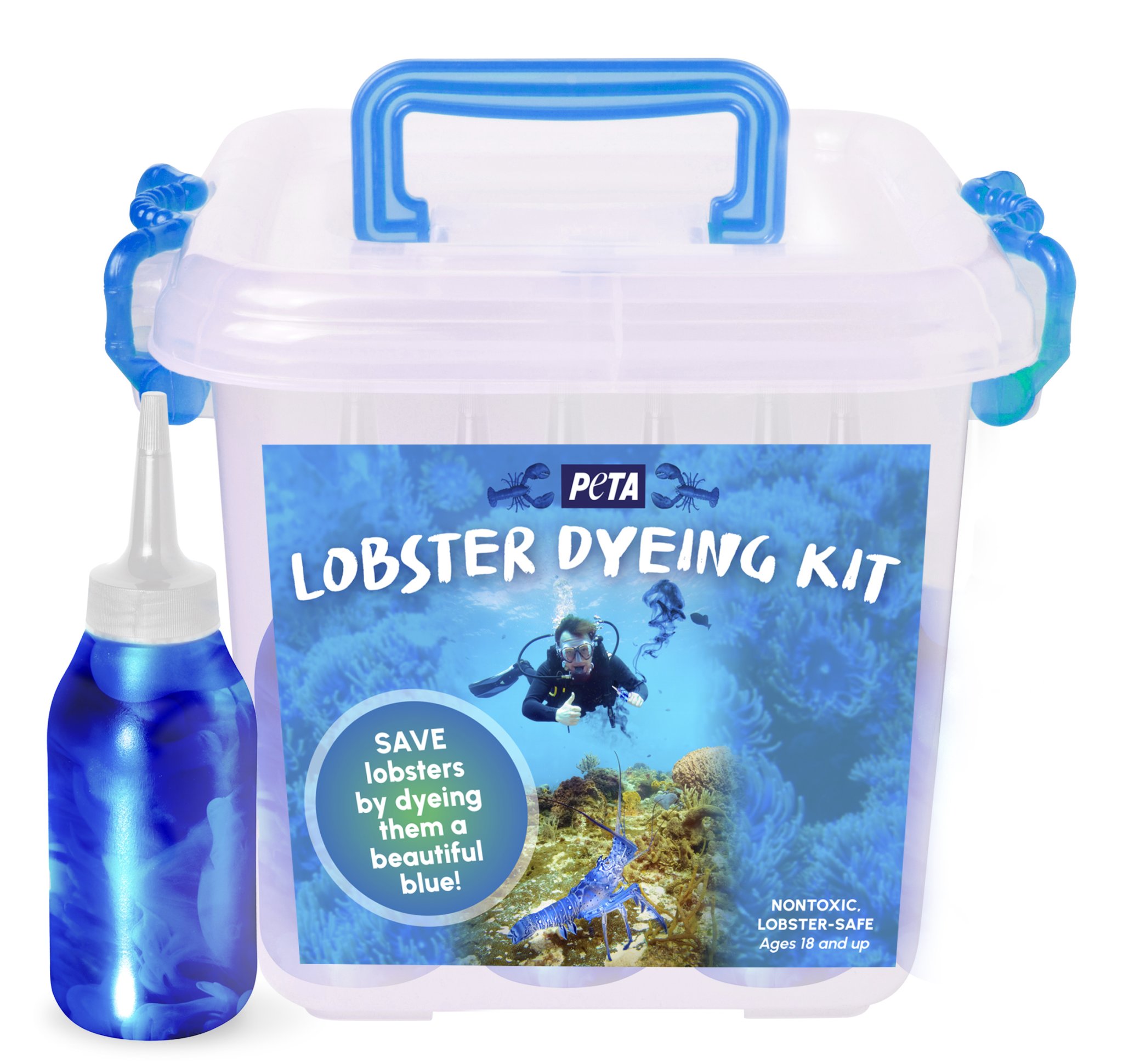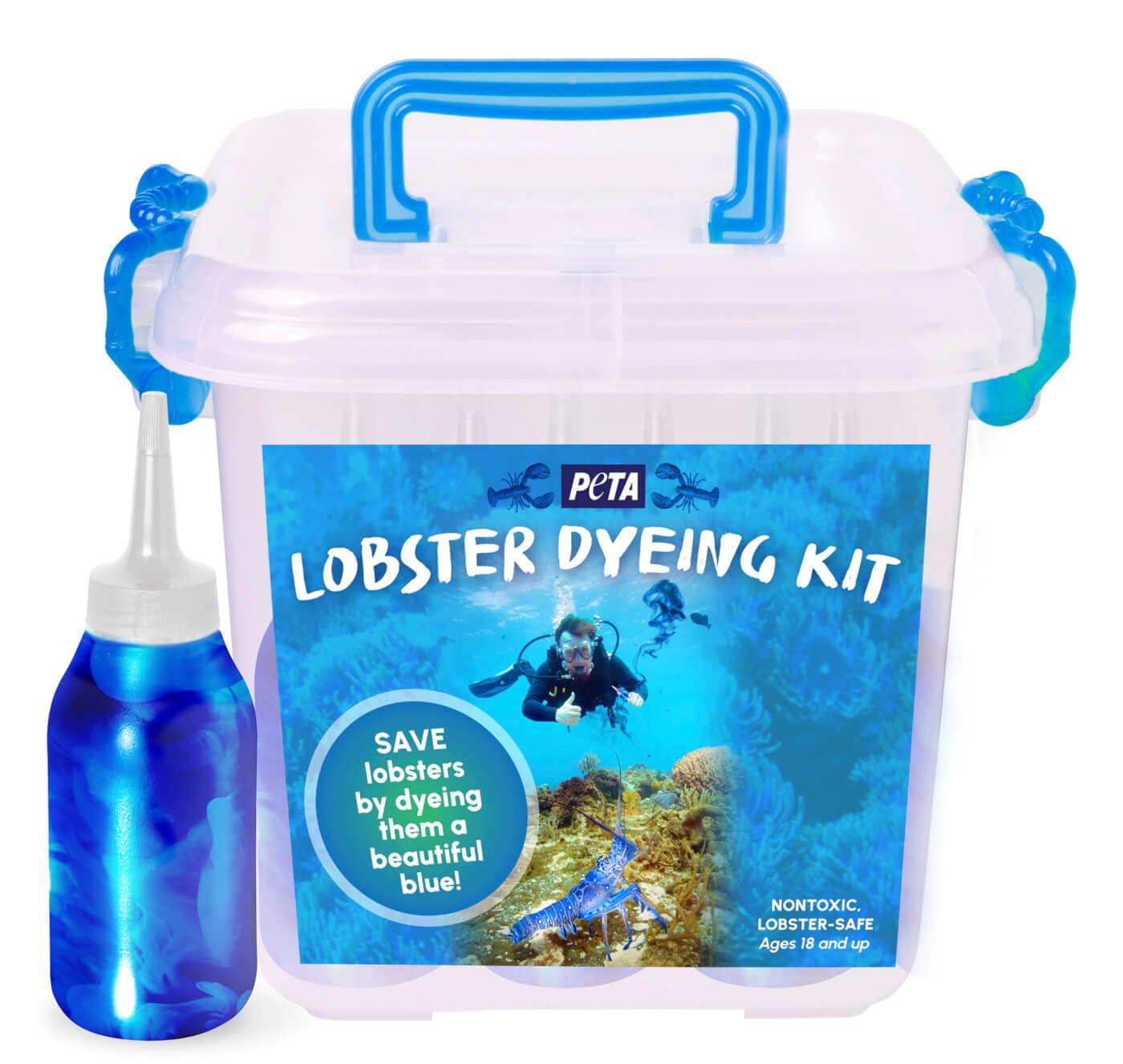 Now available for sale, the chemical-free dye binds to lobster shells for up to six months when squeezed into water—making it look like the animals have a rare genetic trait that occurs in just one out of an estimated every 2 million lobsters .
The dye kit is nontoxic, easy to use, and sea-tested in Maine waters.
No lobster, regardless of color, deserves to be boiled to death, but those with blue shells have a better chance at evading the dinner table. With this kit, PETA is empowering everyone to save lobsters' lives.
Lobsters of Every Color Deserve Respect
Lobsters are intelligent animals who explore their surroundings, can remember other individual lobsters, and use complex signals to establish social relationships. They enjoy companionship, develop relationships with each other much as humans do, and show affection by holding "hands." If left in peace they can live to be more than 100 years old.
Lobsters use complicated signals to explore their surroundings and otherwise communicate with each other, and they undertake seasonal journeys of 100 miles or more each year. They suffer greatly in captivity or when torn apart and boiled or broiled alive.
Like any other individual, each lobster experiences pain.
A PETA investigation into a crustacean slaughterhouse revealed that live lobsters were impaled, torn apart, and decapitated—even as their legs continued to move. Chefs typically place lobsters into pots of boiling water while they're still conscious—a practice so cruel that it's banned in Switzerland.
Because lobsters don't have a centralized nervous system—but instead have masses of nervous tissue called ganglia spread throughout their bodies—they're incapable of going into shock and their deaths can be prolonged and excruciatingly painful. A lobster's nervous system continues to function even after the animal has been dismembered.
This patented dye developed by PETA works underwater, won't pollute the ocean, and, most importantly, is lobster-safe.
CLICK HERE TO BUY YOUR LOBSTER DYEING KIT NOW!

April fool! Of course, PETA doesn't actually support dyeing or painting lobsters or any other animals. Please remember, no animal has a natural desire or need to be dyed, pierced, tattooed, mutilated, or modified in any other way to appeal to humans' aesthetic preferences. And there's no excuse for animal abuse, including eating them.

It's foolish to believe that blue lobsters deserve more respect and compassion than red ones. The best way to show mercy to all lobsters, no matter their color, is to go vegan.
Plastic Container: © iStock.com/koosen | Lobster: © iStock.com/wildpixel | Plastic Bottle: © iStock.com/PsychoBeard | Diver: © iStock.com/JuanMarcosBorsatto