As PETA pal Bill Maher prepares to perform in Alberta and British Columbia, he's proved that he's a stand-up guy in a different sense by sending a letter to Bob Rae, leader of Canada's Liberal Party, urging him to support Sen. Mac Harb's bill to end the commercial seal slaughter.

Photo courtesy of Bill Maher
Bill joins celebrities, including Pamela Anderson, Pink, Olivia Munn, Russell Simmons, Tommy Lee, Alicia Silverstone, Dave Navarro, Joanna Krupa, Megan Park, and many others, who have voiced their support for the momentous bill and encouraged their fans to do the same.
Bill has been a vocal opponent of the annual seal massacre, and his letter comes just weeks after the Senate agreed to continue the debate. Many appeals have already been made to the conservatives, who hold a majority, so Bill chose to address the Liberal Party, mentioning that he hadn't expected much from the conservatives but that he "had hoped for more" from the liberals.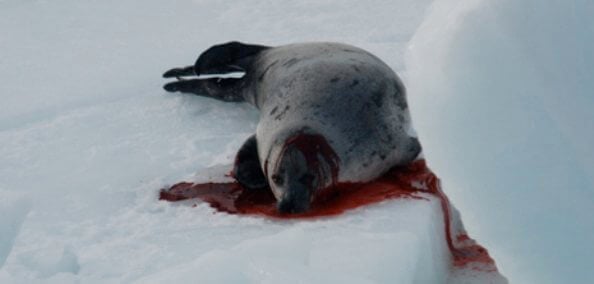 © Sea Shepherd Conservation Society
What You Can Do
Be like Bill—compassionate Canadians can contact their senators directly, but no matter where you're from, please urge Canada's leaders to support Sen. Harb's bill today.