PETA is sending a Compassionate City Award to the Beaconsfield, Quebec, city council for passing progressive legislation that protects animals from being abused, sold, or neglected within the city's boundaries.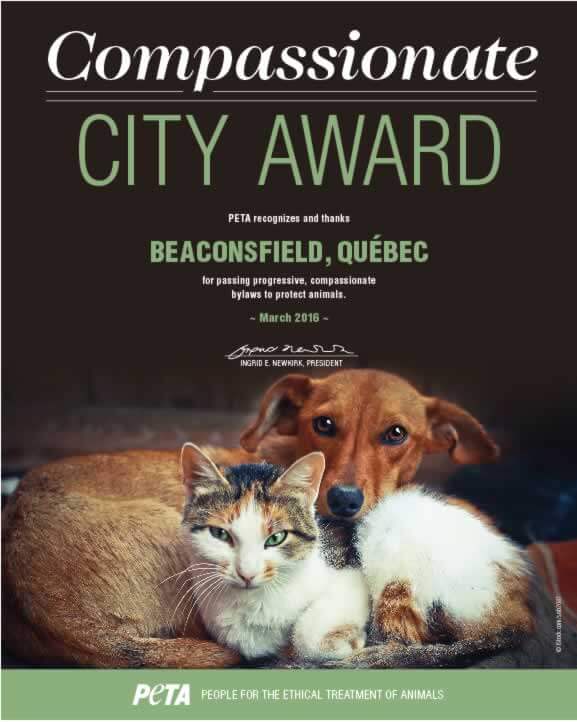 The groundbreaking new bylaws, spearheaded by Beaconsfield Councillor Karen Messier, include provisions that prohibit the use of animals in circuses, where violent training methods have been exposed to be the norm; the operation of a puppy or kitten mill, where animals are confined to wire hutches and continually impregnated; and the sale of companion animals—including dogs, cats, rabbits, guinea pigs, and exotic pets—which exacerbates the homeless-animal overpopulation crisis.
"Beaconsfield is truly a pioneering city where no elephant will be beaten into performing circus tricks, no dog will be left to suffer in a filthy puppy mill, and no rabbit will be used as a breeding machine for a pet store's profits," says PETA President Ingrid Newkirk. "Beaconsfield is setting an example of compassion for cities around the world to follow."
Councillor Messier, an animal-protection advocate who spent two years pushing the legislation through, stresses the power of municipalities to protect animals and describes the new bylaws as "thinking of animals as sentient beings, not property."
What You Can Do
Anyone can be a hero to animals by always adopting animal companions from shelters—instead of buying them from pet stores and breeders—and making sure that they're spayed or neutered right away.