The work of British guerrilla artist Banksy can't be ignored. Indeed, Time just selected him as one of the year's most influential people.
Now the painting provocateur has cheekily twitted one of PETA's frequent targets: Colonel Sanders, the very face of Kentucky Fried Cruelty.
Image from http://www.banksy.co.uk/.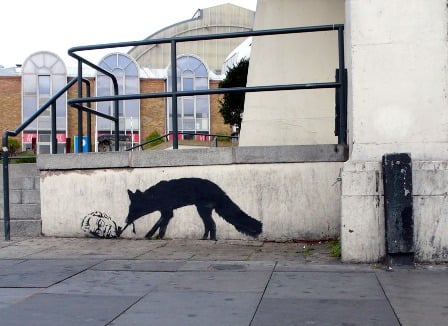 Sure, art is subjective, but in light of Banksy's earlier works, which seem to side with the animals in circuses and question why we call some animals "pets" and others "food," I'm inclined to believe that he's standing with the chickens who are raised in crowded, filthy conditions to supply KFC's restaurants—and who are sometimes even scalded to death. Or maybe he's just as appalled as we are by KFC's new Double Down.
Either way, I don't know much about art, but I know what I like—and I suspect that KFC doesn't like Banksy's work at all. And that's reason enough to cheer.
Written by Jeff Mackey