What a difference eight years makes. After learning from Hurricane Katrina that tragedy results when you try to force people to leave their homes without saving their beloved animals, first responders in flood-ravaged Colorado have reportedly rescued hundreds of dogs, cats, horses, cows, goats, and other animals along with their human families.
Evacuated residents and their companion dog arrive at the Boulder Municipal Airport.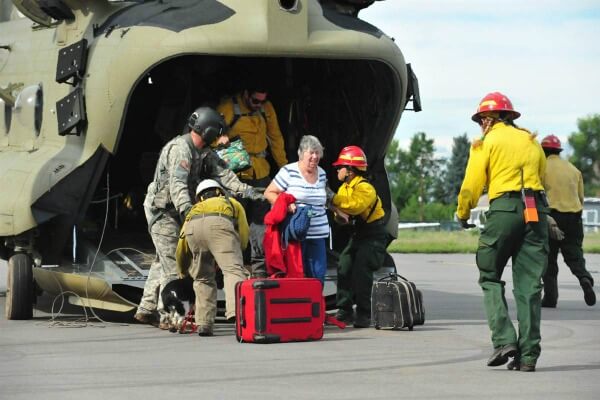 Sgt. Joseph K. Vonnida / U.S. Army via EPA
"Our victims advocates told me tonight there were almost as many pets as people getting off the evacuation helicopters today," the Larimer County Sheriff's Office posted on its Facebook page. "475 evacuated."
As we do whenever natural disasters strike, PETA has sent out public service announcements to help people safeguard animals.
Even if you're not in the path of a storm or fire, now is still the time to make arrangements for keeping your animals safe in the event of an emergency:
Storm shelters for humans may refuse animals, so check with hotels, relatives, and friends to see if you and your animals can stay there until the emergency is over. Never leave animals unsupervised in a car, where they can suffer from heatstroke. To find out if there is an emergency shelter that accepts animals in your area, call your county emergency management office or local animal shelter.
Make sure that your animals are current on rabies vaccinations and are wearing collars with identification tags (microchips are even better). Pack leashes, bowls, towels, blankets, litter pans, litter, and at least a week's supply of food and medications. Be sure to have a carrier and/or leash and harness (frightened animals can slip out of collars) on hand for each animal.
Place signs in your windows and on your front door indicating how many and what kinds of animals are inside in case you are ever away from home when a disaster strikes—rescue teams may be able to save them.
Never leave animals behind in an evacuation. You may not be able to return home for weeks, leaving animals to die lingering, painful deaths by starvation, dehydration, or drowning. If conditions aren't safe for you, they aren't safe for your animals, either.
Keep an eye out for other animals in need, including strays and animals left behind by neighbors. Dozens of horses and cows in Weld County, Colorado, were saved when neighbors spotted them on a TV newscast.
If you see an animal in distress and are unable to help, note the animal's condition and location and call authorities for help as soon as possible.
TVs, couches, and even homes are replaceable, but best friends aren't. Jonathan Linenberger waded through knee-deep water in Lyons, Colorado, with four dogs and three cats to a National Guard evacuation truck. "That was the first thing you can grab—your loved ones," he told news sources.
Visit PETA.org for more emergency-preparedness tips, and please consider making a donation to the Animal Emergency Fund.