Call it "animal magnetism," but we couldn't help but notice how many of the women on Maxim's Hot 100 list look awfully familiar. Olivia Munn edged out almost everyone, claiming the number two spot, but she's number one in our eyes for her defense of animals used in circuses and horses forced to pull carriages—just ask Hoda Kotb!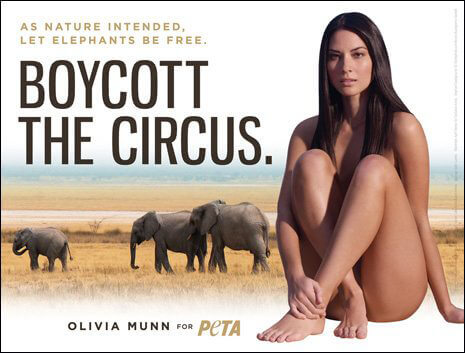 Rubbing shoulders with Olivia on the list is Katy Perry at number three. Ms. Perry became Mrs. Sexiest Vegetarian in the UK when she married Russell Brand, and he might be rubbing off on the singer, who has said that she loves Tofurky. At number five, Mila Kunis is definitely hot, but fur, she says, is not.
Vegetarians liberally pepper the list, including Anne Hathaway, Natalie Portman, and reigning Sexiest Vegetarian Celebrity Olivia Wilde. 
Lea Michele has more in common with Olivia Munn than just talent and beauty—the fur-free vegetarian star has tirelessly campaigned to end horse-drawn carriages too. Near to Lea on the list and in their animal-friendly values is Eva Mendes, who bared her skin for PETA to save the skins of animals killed for fur. And Audrina Patridge is an angel for animals, asking her fans always to adopt from an animal shelter in a PETA ad.
So many of the Hot 100 ladies are doing great things for animals that they were too numerous to mention here, but one thing is clear: Being compassionate makes one beautiful inside and out.
Written by Michelle Sherrow