As many of us sit down to a hearty meal with family and friends this Thanksgiving, millions of dogs across the country will be living as they do every day: on a barren patch of dirt amid their accumulated feces, a crumbling and rotting doghouse (if they have any shelter at all), a nearly empty bowl of putrid water (if it hasn't overturned), and a few pieces of kibble tossed on the ground, often out of the dogs' reach because of the chains that restrict their movement.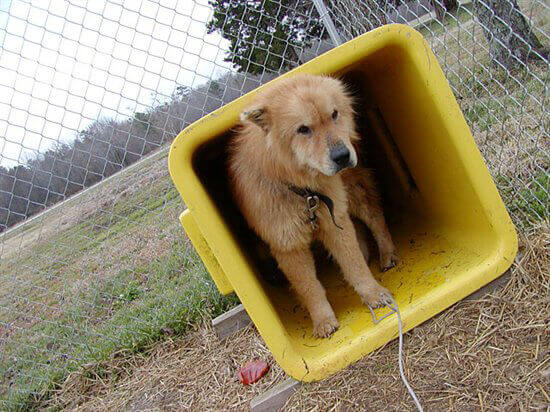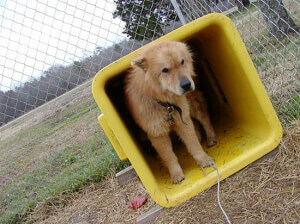 PETA's fieldworkers are trying to change that, at least for the dogs in the area surrounding our headquarters at the Sam Simon Center in Norfolk, Virginia. All year round, our fieldworkers deliver doghouses,  toys, treats, straw bedding, and other basic necessities to lonely, neglected "backyard dogs," bringing a little comfort to dogs who would otherwise have nothing to alleviate the tedium of long days and cold nights spent chained or penned in "solitary confinement."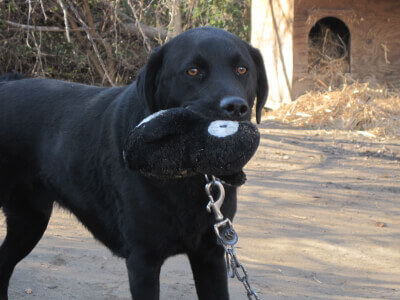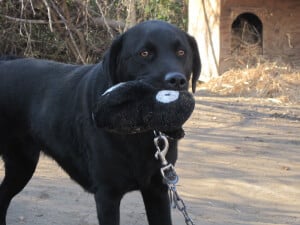 Smokie shows off his new digs and "housewarming present."
That's where you come in. PETA's fieldworkers have compiled a wish list of supplies that they routinely take on their visits to neglected dogs, including dog toys and treats, flea treatment, fly repellent, collars, and bowls. We've set up an Amazon registry that people can use to purchase the items on our fieldworkers' wish list and then, with the click of a mouse, have them sent directly to PETA.
On behalf of Smokie and the thousands of other dogs PETA's fieldworkers have helped, thank you in advance for giving neglected dogs something to be thankful for this Thanksgiving.
PETA is a participant in the Amazon Services LLC Associates Program, an affiliate advertising program designed to provide websites with a means to earn advertising fees by advertising and linking to Amazon.com.