Merino wool–focused shoe retailer Allbirds went public on Nasdaq last November, and—for sheep's sake—PETA's going all in on its stock. As a shareholder, we'll push back on Allbirds' "humane" claims at its first-ever annual meeting on June 10, at which we'll ask the following question:
If Allbirds truly wants sheep to enjoy "the good life," when will it stop using wool, which is a product of cruelty?
Allbirds wants you to believe that "[its] sheep live the good life," but PETA and PETA entities know this is nonsense: We've documented cruelty to sheep while visiting 117 wool operations worldwide, revealing our findings in 14 exposés. Even on so-called "sustainable" and "responsible" farms, workers beat, stomped on, cut, and slit the throats of conscious, struggling sheep.
By switching entirely to sustainable vegan materials, such as the eucalyptus tree fiber that it's already using, Allbirds could avoid contributing to the devastating environmental cost of wool production (e.g., water pollution, desertification, methane emissions, and wildlife killing) and actually live up to the "sustainable" reputation that it claims to have.
With our new shareholder status, PETA will push Allbirds to cut the greenwashing by eliminating wool from its products.
Previously, we gave the company a Pants on Fire award for humane washing—claiming to care about animal welfare and the environment, even though it sells wool stolen from sheep—and more than 110,000 supporters of PETA entities called on it to sell only innovative and sustainable vegan materials instead.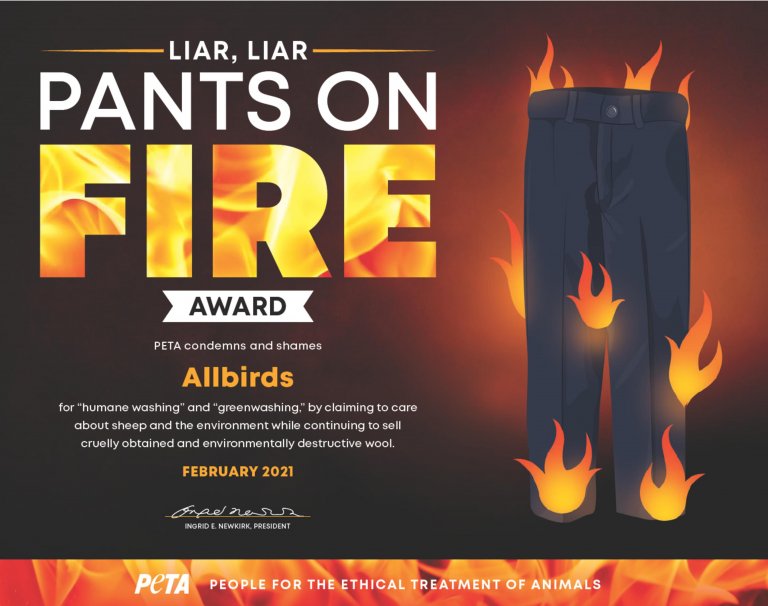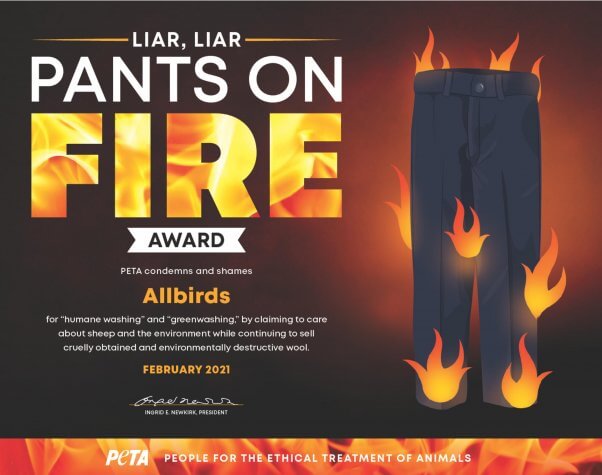 If you haven't yet urged Allbirds to drop wool immediately, please click below to take action:
While we get busy with some shareholder activism, you can make a huge difference for sheep and other animals via consumer activism. Allbirds is banking on you not finding out about the cruel industry that it supports, but now you know better—so throw your hard-earned cash elsewhere, like at the heaps of brands that make shoe shopping easy by being 100% vegan: