According to the Chinese zodiac, 2018 belongs to dogs. Personalities associated with this animal sign are considered honest, loyal, and reliable—sounds like a dog to me!
It's baffling how some humans can treat dogs so viciously. We owe it to our canine companions to protect them from harm, especially in a year that's dedicated to them. Here are some things that you can do to help dogs in 2018:
1. Help PETA End the Deadly Iditarod
Dogs deserve far better than being subjected to a lifetime of cruelty and suffering just so they can train for and run in the Iditarod. Before the race even starts, hundreds of animals are bred and then killed because they're considered too slow or weak to win prize money.
https://twitter.com/peta/status/952948635871870977
PETA and compassionate people everywhere are calling for an end to this deadly race, and you can, too:
2. Condemn Puppy Mills
These places are hellish mass-breeding facilities where dogs are treated like puppy-producing machines and denied love, attention, and the chance to be part of a family.
In the Year of the Dog and beyond, stay away from puppy mills, breeders, and pet stores that sell animals.
3. Tell Texas A&M University to End Muscular Dystrophy Experiments on Dogs
PETA shocked the world when we released a disturbing video that shows very thin dogs in a Texas A&M University laboratory living in barren cages and struggling to walk, swallow, and eat. Despite heavy criticism and years of failing to produce any meaningful results for MD, the school continues to conduct these painful experiments on dogs.
No one, especially those we call our "best friends," deserves to be bred into a life of suffering.
4. Adopt a Dog!
Provide a dog with a good home if you have the time, patience, and love to give. Always adopt, never shop.
https://www.facebook.com/official.peta/videos/10156290934424586/
Many dogs in shelters are already housetrained, and the adoption fee may include microchipping, vaccinations, and a discount on spay/neuter surgeries. You can pick a personality best suited to you and your family, and best of all, you're giving an animal in a shelter a second chance!
5. Spay and Neuter Your Dogs to Prevent the Births of Unwanted Animals
Since more than 6 million animals end up homeless every year, there's no excuse for bringing more puppies into the world.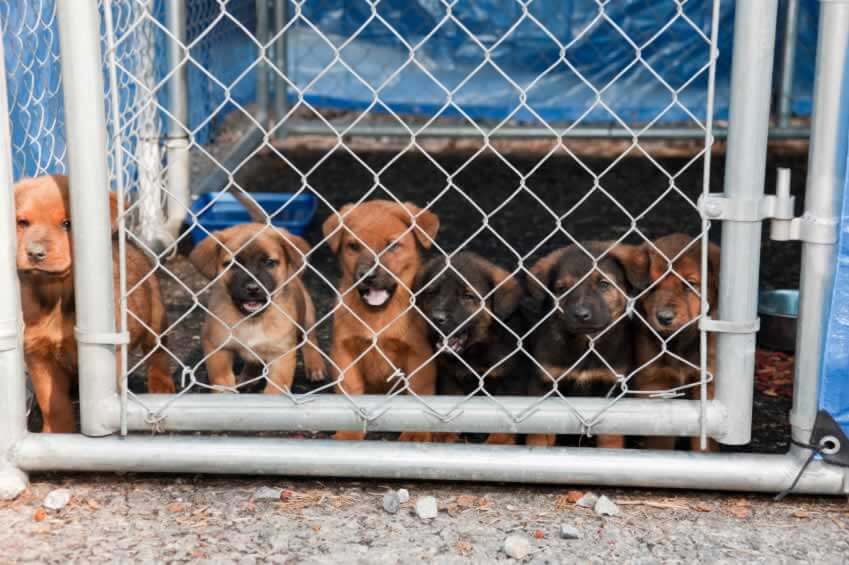 © iStock.com/golfladi
Spaying and neutering also help animals live longer, including by preventing many forms of cancer, and can keep male animals from running off.
6. Help Dogs Who Are Chained and Without Shelter
When dogs are left outside and deprived of access to food, water, or shelter, especially when the temperature drops, the situation is an emergency. Their well-being, if not their very lives, could depend on your actions.
Every winter, we hear about dogs who have frozen to death because they were left outdoors. And even when freezing temperatures don't kill animals, they're still suffering in the cold.
7. Speak Up for Dogs Trapped in Hot Cars
Parked cars are death traps for dogs: On a 78-degree day, the temperature inside a parked vehicle can soar to between 100 and 120 degrees in just minutes.
Animals can sustain brain damage or even die from heatstroke in just 15 minutes. If you see a dog left alone in a hot car, you can help:
8. Stop Wearing Fur
Dog (and cat) fur is often deliberately mislabeled as fur from other species and exported to countries throughout the world to be sold to unsuspecting consumers.
In China, dogs are bludgeoned, hanged, bled to death, and strangled with wire nooses for their skin. The country supplies more than half the finished fur garments imported for sale in the U.S. So if you're wearing fur, there's no way to tell exactly whose skin you're in.
Want to Do More for Animals?
There are 11 other animals in the Chinese zodiac (we'll group the dragon with lizards), so let's try to help them all. Anything is possible when we stand together for animals. Learn how you can make a difference today!