There are lots of things your cat would like you to know, and if we humans were better at translating meows, ear twitches, blinks, and tail flicks, we wouldn't need a book like 250 Vital Things Your Cat Wants You to Know by PETA President Ingrid Newkirk, a renowned cat "auntie." But the fact is that many of us are not nearly as good at translating "Catese" as cats are at understanding our language.
For example, did you know that cats "smile" by squinting their eyes? If they go a step further and close their eyes for more than a split second, they're showing how much they trust you—a high compliment, indeed! And did you know that your cats' "accidents" outside the litter box could be their way of telling you that they have a serious and potentially life-threatening illness? How about if one, heaven forbid, were to go missing? This book could help you get your cat back. Oh, and scratching your couch can be dealt with (and declawing is never, ever the solution).
With empathy, humor, and the humility that comes from being "supervised" by cats, Newkirk reveals just how much feline guardians can learn from the cat gods who deign to grant us permission to provide them with a lifetime of service despite our many faults.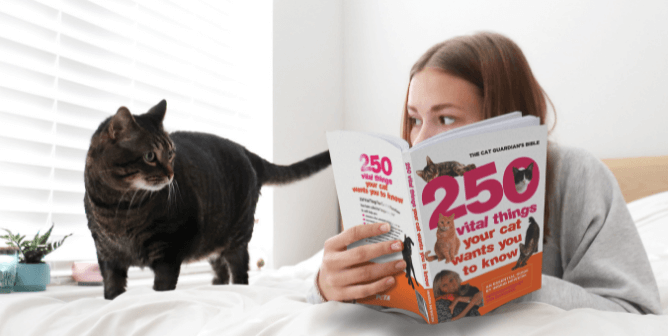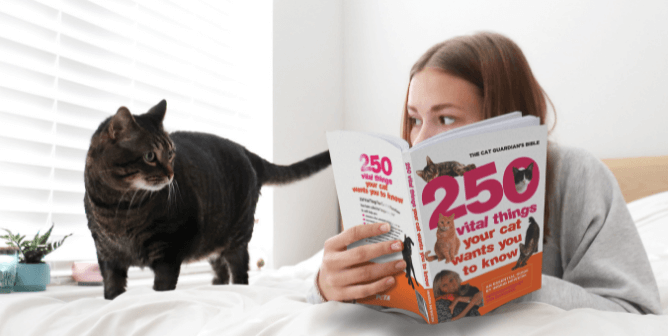 Are two cats better than one? Can cats walk on a leash like a dog? Why do cats "make biscuits" on your lap? Newkirk answers those questions and addresses many more topics, including these:
Why you might want to think twice about using clay-based, clumping kitty litter
Which houseplants may be hazardous to your cat's health
How to make easy DIY cat toys that cost pennies or nothing at all
Why declawing cats can harm them emotionally as well as physically
How to make your home truly feline-friendly
Why real men (and women) get their cats neutered or spayed
How to turn a simple shelving unit into a cool catio
Which are the best nontoxic, eco-friendly flea treatments
How to choose the right cat-sitter
Why you should never fly your cat in an airplane cargo hold
Which holistic home remedies could save your cat's life
Yes, there are lots of things you desperately need to know about your cat, which is why 250 Vital Things Your Cat Wants You to Know (aka "the cat guardian's Bible") is required reading if you want to ensure that all nine of your cat's lives are as happy and fulfilling as felinely possible. Order your copy today—or better yet, order several copies to share with your feline-fancying friends.
As an Amazon Associate, PETA earns from qualifying purchases. If you buy something after clicking the Amazon links on this page, a percentage of the qualifying purchase will be donated to PETA and help us protect more animals from exploitation.