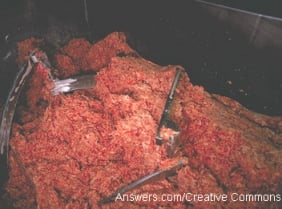 Fears of E. coli contamination have prompted California-based Richwood foods to recall more than 100,000 pounds of beef from grocery stores. The scare comes after three children became seriously ill. You can read about the story here if it hasn't come across your radar yet, but if you're in the mood for a little bit of "I told you so" posturing from yours truly, stick with me.
In order to line the wallets of its executives, the meat industry crams animals by the tens of thousands into filthy sheds that are contaminated by feces, vomit, and other bodily fluids. Leaving aside the ethics of this practice for a second (which, well, you can probably guess where I stand on that issue), what this means from a health perspective is that most of the flesh from the 10 billion animals a year killed for meat in the U.S. is contaminated with dangerous bacteria like E. coli, campylobacter, and listeria. The fact is that this recall shouldn't come as a surprise to anyone—and it definitely won't be the last. Anyway, it's good that these products are being recalled when kids start getting sick, but if the meat industry wants to be consistent, it might want to pay attention to the significant role it plays in the 700,000 annual deaths from heart disease in this country, just for starters.
In other relevant news, companies like Boca and Morningstar Farms make these really delicious, 100 percent disease-free veggie burgers, which you can find at any grocery store. I'm just saying.