We had some great comments to choose from for this week's 10% Wool "Tag and Release" comic, but there can only be one winner! Congratulations to Stephanie for captioning the latest comic.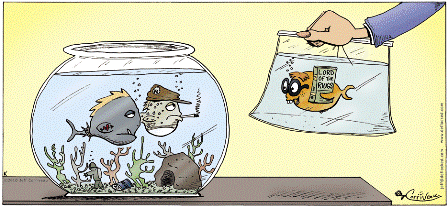 And with that, William the goldfish was unceremoniously
moved unto the "Real World" tank.
If you are currently a guardian to fish, please read our "Caring for Fish" guide to help make their lives easier.
Don't forget to check out the archive of past 10% Wool comic strips here. Get more information on the series and the writer here, and learn how to get Jeff's other comic, DeFlocked, into your local paper here.