Here's a reminder of why it's so important to question authority when it comes to our animal companions' well-being: Recently, a distraught woman called PETA for help after a veterinarian sent her terribly injured cat home with only a prescription for antibiotics, claiming that this gaping wound would heal on its own: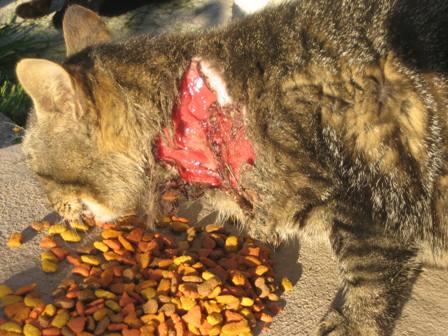 No one knows how this poor cat was injured, but it doesn't take a degree in veterinary medicine to realize that the wound was life-threatening—it was necrotic and the muscle tissue had been exposed—and that the cat clearly needed further intervention immediately. PETA's Emergency Response Team helped find another nearby vet to assess the animal, who determined that the cat was indeed in dire condition and that euthanasia was the most merciful option. She was able to peacefully end the cat's suffering.
We owe it to our animals to be proactive if we suspect that they are suffering as a result of inadequate or downright bad advice or care from a veterinarian, groomer, trainer, or anyone else. Trust your own instincts and seek a second opinion. In this case, the cat would have suffered prolonged pain and a slow death if her guardian hadn't known better and persisted on behalf of her kitty. Of course, animals are much less likely to suffer catastrophic injuries like this one if they are safely confined indoors or kept under constant supervision when let outside on a harness or in a secure fenced area.
Written by Lindsay Pollard-Post