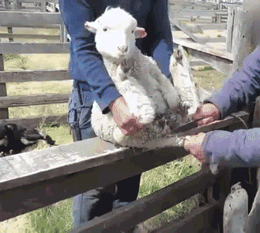 PETA entities worldwide have exposed cruelty to sheep used for their wool for years, yet Forever 21 still sells it. Take action now for the lambs and sheep who are punched, kicked, and killed in the wool industry by calling Forever 21.
Customer service: 1-888-494-3837 (Select your preferred language. Then press 1 and then 3 to speak with a representative.)
Brad Sell, chief financial officer: 213-763-0212
Here are some talking points:
For years, PETA entities worldwide have exposed cruelty to sheep at 100 wool industry operations on four continents. The investigations revealed shocking abuse and cruelty, including that workers beat, kicked, cut, and stomped on sheep and threw them down chutes like garbage bags.
Please drop wool in favor of one of the many warm animal-friendly materials that are available, such as organic cotton, acrylic, bamboo, rayon, and Tencel.
Let Us Know About Your Call and Get A FREE Sticker
Here are some other actions that you can take to help sheep:
Text PUNCH to 73822 to urge Forever 21 to drop wool. Terms for automated texts/calls from PETA: http://peta.vg/txt. Text STOP to end, HELP for more info. Msg/data rates may apply. U.S. only.
Please also consider mailing a letter asking that the company help save sheep to 3880 N. Mission Rd., Los Angeles, CA 90031.
Want to do even more? Contact [email protected] to plan your own Forever 21 protest.
Also, be sure to leave all animals out of your wardrobe. Check out our "How to Wear Vegan" feature for tips on cruelty-free fashion.