Attendance numbers for Ringling Bros. and Barnum & Bailey Circus are down, so the circus is turning to local news stations to run ticket giveaways and air news segments supporting its cruel act. If one of your local stations is promoting the circus in this way, call it today and politely ask it to stop. When stations run these ticket promotions and one-sided stories, they are supporting the cruel training and confinement common in circuses that use animals.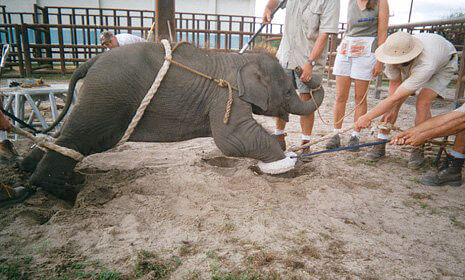 Why Call?
Remember: Every voice counts. We've seen large companies change their ways after hearing from just a handful of concerned citizens. Calling is quick and easy.
What to Say
When you call the news station, a general receptionist will most likely answer. Ask to speak with the news director. If the receptionist asks who you are, just explain that you're a concerned member of the public and need to speak to the news director about some disturbing content that you saw on a recent program.
Once you are transferred to the news director, use the sample script below as a guide, but put it in your own words. If you are not transferred to the news director, politely leave your complaint with the receptionist:
Hi. My name is [insert your name here]. I am a resident of [insert your town's name here] and a loyal viewer of [insert show name here]. I am calling regarding your station's [ticket promotion/fluff piece] for [name of circus]. Animals in circuses are beaten by employees in order to force them to perform physically grueling tricks, are kept in tiny cages or on chains when they are not onstage, and are denied everything that is natural and important to them. Your promotion of the circus neglects to provide viewers with information on its well-documented history of animal abuse and neglect. Will you please stop promoting the circus and do a follow-up story on what's wrong with the circus? I'd be happy to e-mail you testimony from former circus employees, records of U.S. Department of Agriculture citations, and photo and video documentation that shows that trainers violently beat animals behind the scenes.
What Next?
Let us know what the news director says! If you're given an e-mail address to provide the station with more information, contact us at [email protected], and we'll get you all the materials that you'll need.
Thanks so much for speaking out for elephants and other animals abused by circuses.
Why Is the Circus Bad?
More Ways to Fight for Animals