Thousands of dogs, pigs, rabbits, guinea pigs, gerbils, mice, rats, and fish have been tortured and killed by Japan-based conglomerate Ajinomoto Co. Inc.—the world's largest manufacturer of the controversial food flavor enhancer monosodium glutamate (MSG) as well as the owner of packaged frozen food brands Tai Pei, Ling Ling, and José Olé, all sold in the U.S. PETA is urging the company to end these worthless tests on animals, and we need your help!
Experimenters at @Ajinomoto have cut open dogs' stomachs, inserted tubes, starved them for 18 hours, given them liquid diets with MSG, drained their stomach fluid, & injected them with drugs.

Help PETA put an end to this: Call 909-477-4700 (press 8) pic.twitter.com/ULGgNtlbpk

— PETA (@peta) August 21, 2020
Urge MSG flavor giant Ajinomoto to end horrific tests on dogs and others:
Call the President and CEO of Ajinomoto Foods North America, Hiroshi Kaho, at 909-477-4700 (press 8). If you get his voicemail, please leave a message.
CALL AJINOMOTO FOODS NORTH AMERICA'S CEO
Call Ajinomoto Health & Nutrition North America Inc. at 630-931-6800.
CALL AJINOMOTO HEALTH & NUTRITION NORTH AMERICA
LET US KNOW HOW YOUR CALLS WENT
Please comment on Ajinomoto's X (formerly Twitter), Facebook, and Instagram accounts by posting the image and text below (in both Japanese and English) to urge the company to ban animal testing:
味の素: 食品のための動物実験を廃止せよ (Ajinomoto: Stop deadly tests on animals for food products.)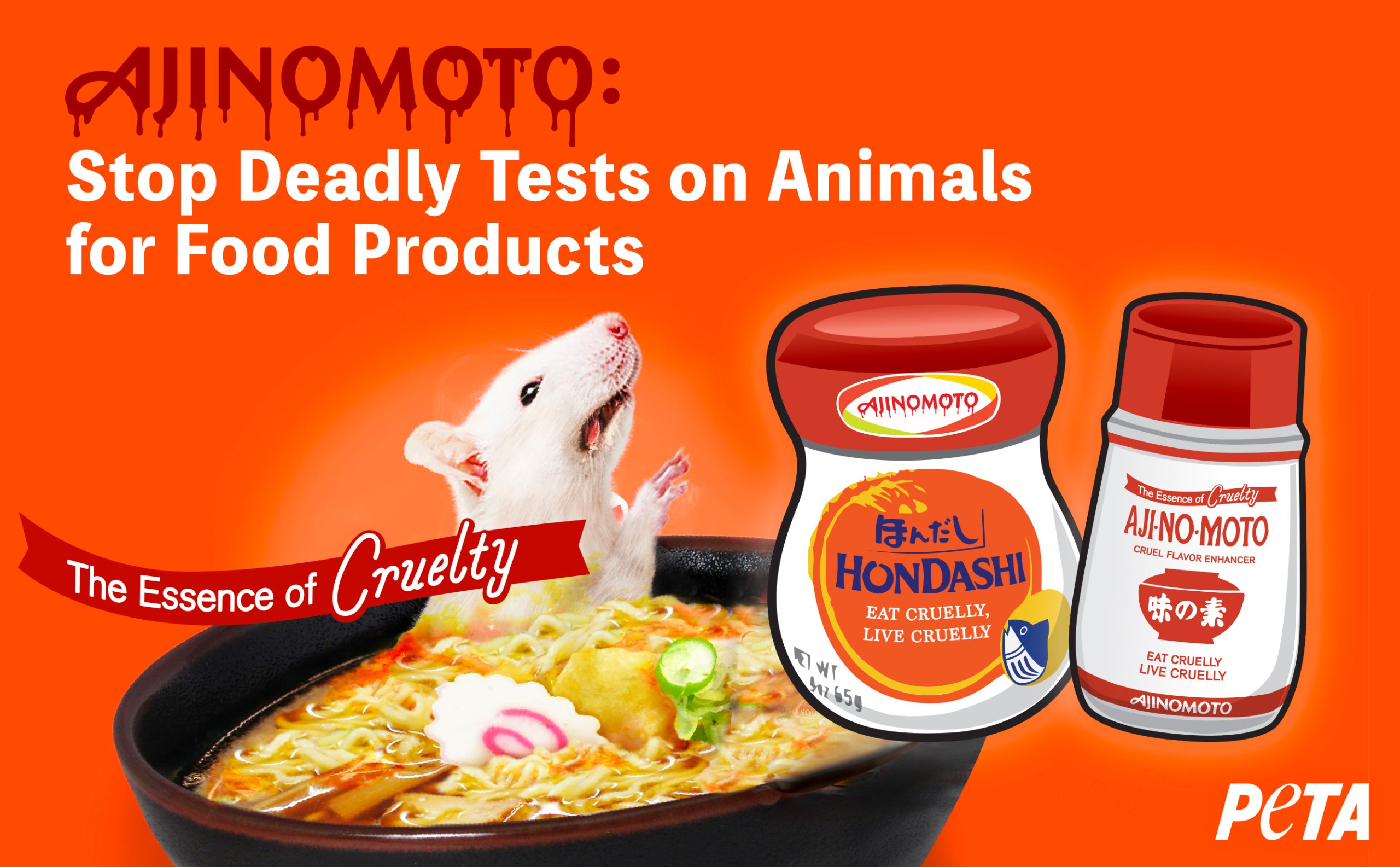 Also, please post polite comments on Ajinomoto's popular Indonesian lifestyle and recipe page:
Order free stickers as a creative way to spread the animal rights message: