Thanksgiving is almost here, which means it's time to prepare our homes for fall festivities and our stomachs for multiple servings of delicious vegan food. No matter whether you're celebrating this year's "ThanksVegan" in person, at a socially distanced gathering, or virtually, PETA has all the gear necessary for a tofurific holiday. Here are five actions to take this ThanksVegan to enjoy the holiday, no matter how you choose to connect with your loved ones this year:
1. Don't Stress About Fall Fashion in a PETA ThanksVegan Tee
Looking cute for a holiday centered on sharing tasty vegan recipes with those you're thankful for is a balancing act between cute, comfortable, and autumnal. Thankfully, PETA has you covered—literally. Our ThanksVegan T-shirts, available in a crop top and standard cut, pair easily with your favorite skirt, slacks, or pajama bottoms!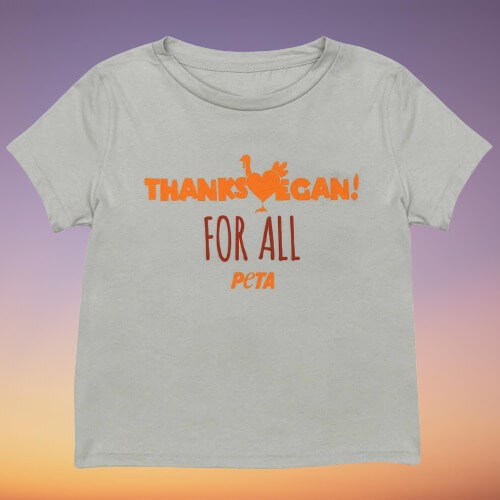 2. Shop at Stores Participating in ThanksVegan
When you're shopping for your vegan feast, keep in mind the stores that offer tasty vegan food. Look for meat-free roasts and plenty of side dishes at stores that are participating in ThanksVegan, including Key Food, Gelson's Markets, Associated Supermarket Group, Vallarta Supermarkets, Huckleberry's Natural Market, and Price Chopper—or Boycemode, MamaSezz, Fresh n' Lean, Meals by Marqi, 22 Days Nutrition, and Vegan Chef Lenka, if you're looking for a meal delivery option.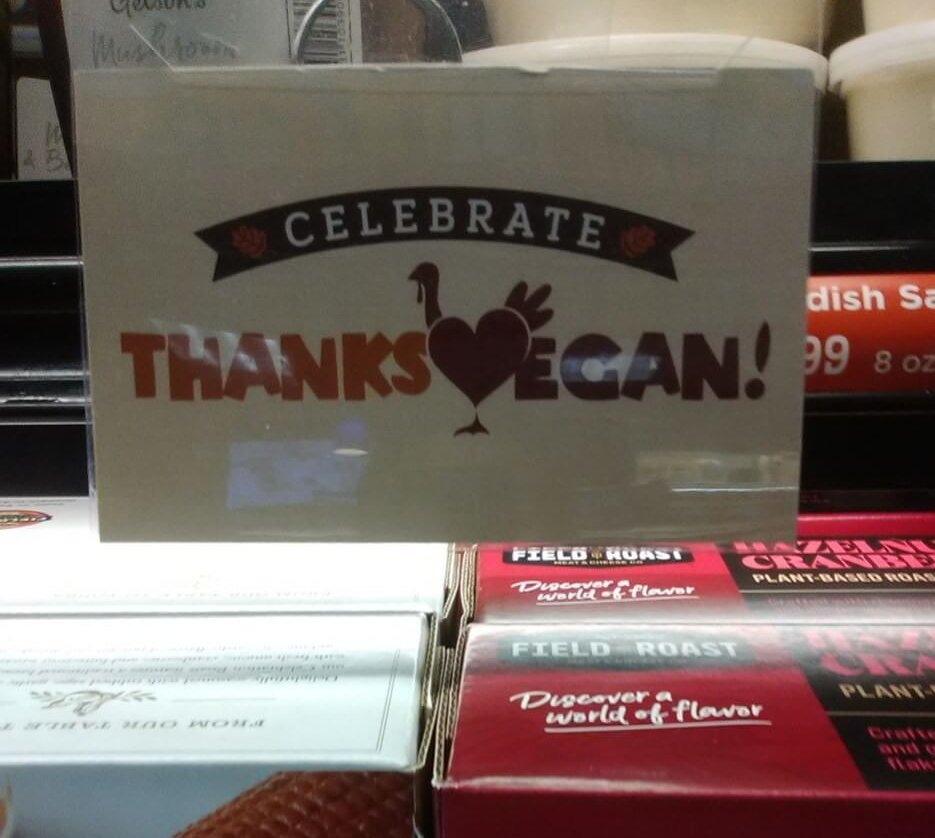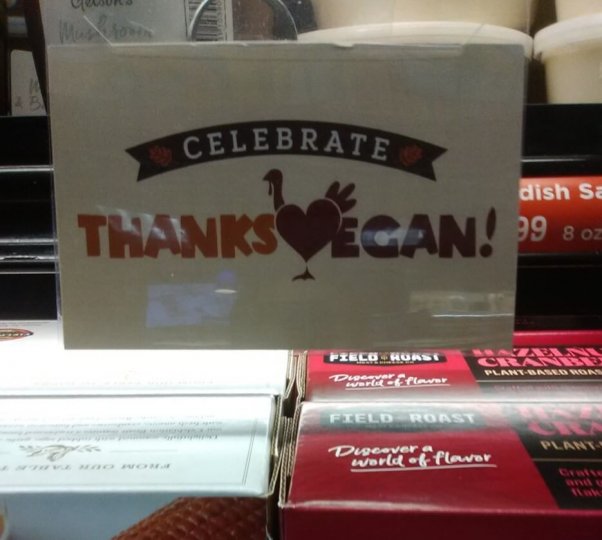 3. Look Like a Snack While Cooking Dinner in a ThanksVegan Apron
If you want to keep your cozy, animal-friendly outfit safe or just show off the fact that you are the chef of the evening, PETA's ThanksVegan apron is a practical and eye-catching kitchen fashion statement.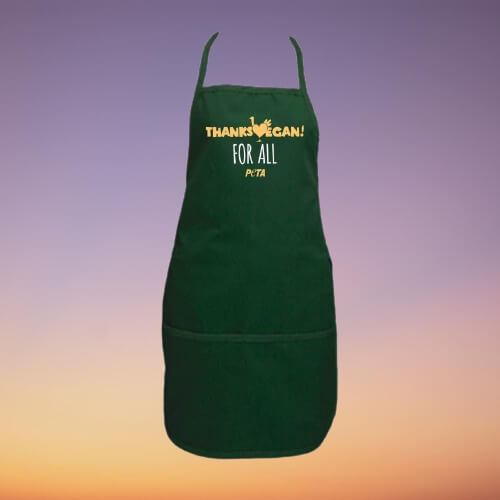 If you're opting for a socially distanced dinner table, introduce animal rights into your discussions by ordering PETA's ThanksVegan partition. It will help keep everyone safely spread apart while stimulating dialog about the way millions of turkeys are unnecessarily sacrificed each year for a traditional Thanksgiving meal.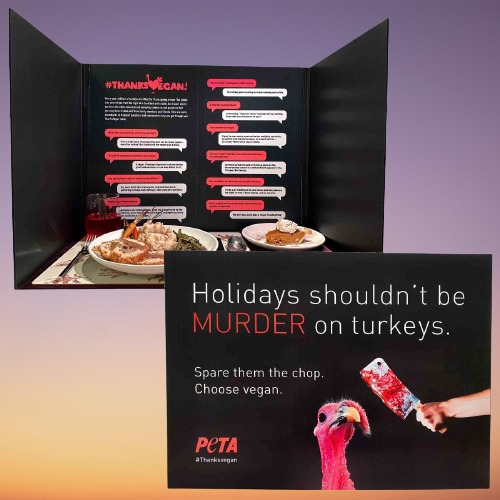 Since many friends and families are once again gathering over Zoom this year, we're still offering our free ThanksVegan Zoom background. If you want to remind people to be kind to animals this holiday, simply download the image, click the caret next to the video icon on Zoom, and select "Choose a Virtual Background." Then, just upload the image and you'll have a wonderful, animal-friendly conversation starter for your virtual gathering.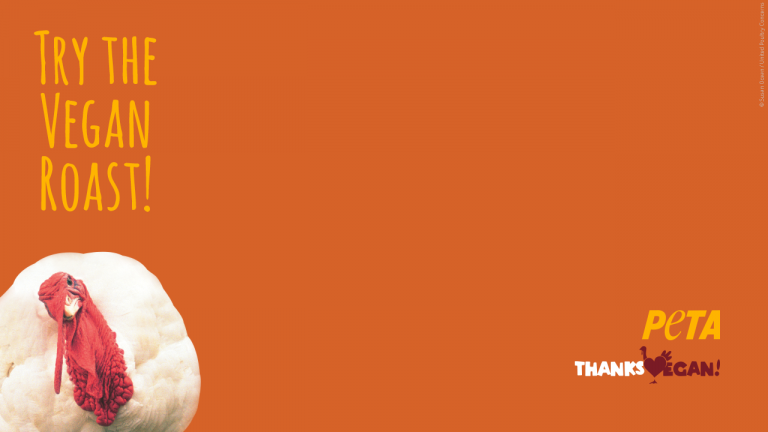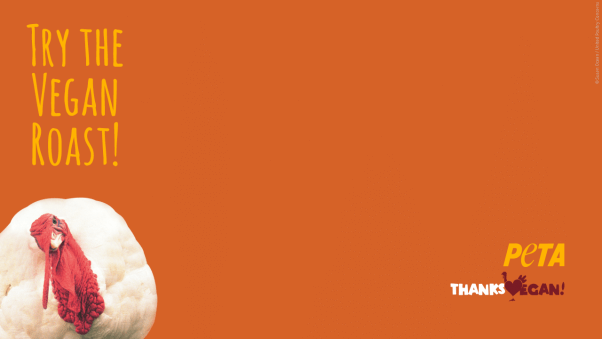 5. Use the Hashtag #ThanksVegan for All Your Holiday Posts
Snap a picture of your vegan spread and share it online with the hashtag #ThanksVegan so that everyone can see how you celebrate holidays the vegan way!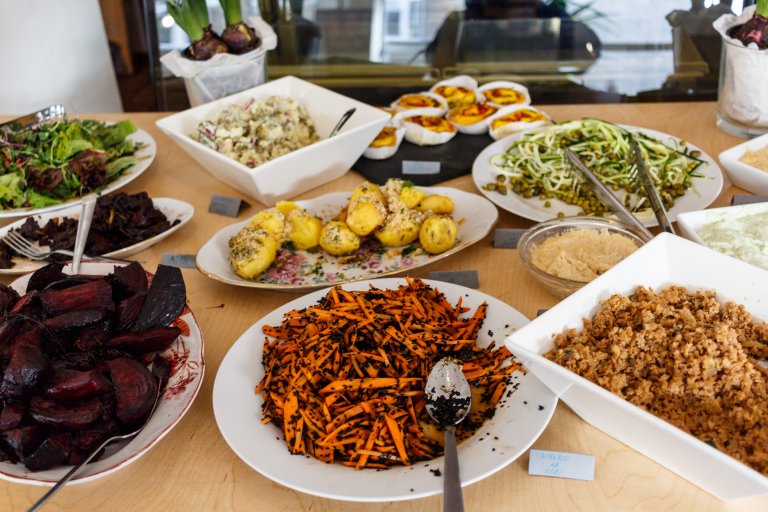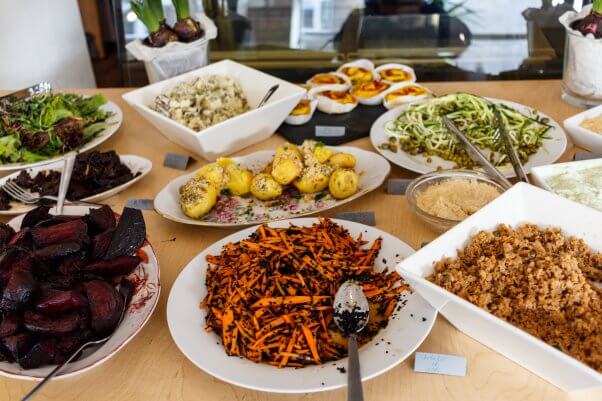 © iStock.com/IneseOnline
*****
Thanksgiving is a time to show gratitude for all the blessings in our lives. The best way to do this is by going vegan, which is better for animals, the planet, and our own health. If you love these ThanksVegan actions and are looking for more animal-friendly tips, order our free ThanksVegan Holiday Guide for delicious holiday recipes, tips, and advice for answering difficult questions at the dinner table!