Each week, PETA's campaigners publish a new post about their lives as they travel the country fighting for animals. This week's post is written by Virginia Fort.
May 9 2013
Several weeks ago, we attended the StarCraft II: Heart of the Swarm launch event in Irvine, California. The event was especially fun because we got to combine two of many PETA members' loves—animal rights and gaming. After grabbing leaflets, posters, and T-shirts and assembling a group of especially nerdy activists, we were on our way!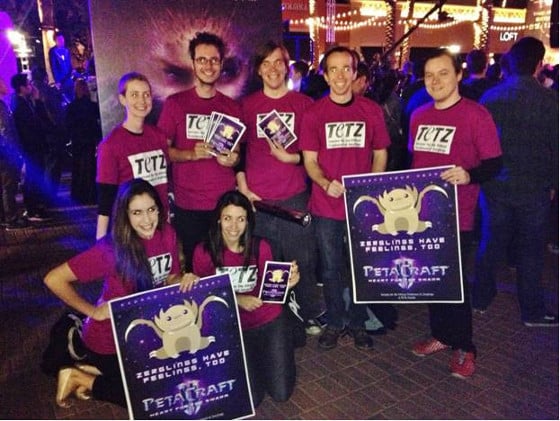 At the event, the reception was great. Everyone we ran into really loved Terrans for the Ethical Treatment of Zerglings (TETZ for short), including many Blizzard (the company that makes StarCraft, along with Warcraft and Diablo) employees. Some said that they came out just to see us and asked whether they could keep our poster. I told them that we'd send a few posters their way, along with some of our T-shirts.
We TETZ folks split up into three groups for a little while to reach out to more people, and all of us posed for pictures throughout the evening and passed out our funny fliers along the way.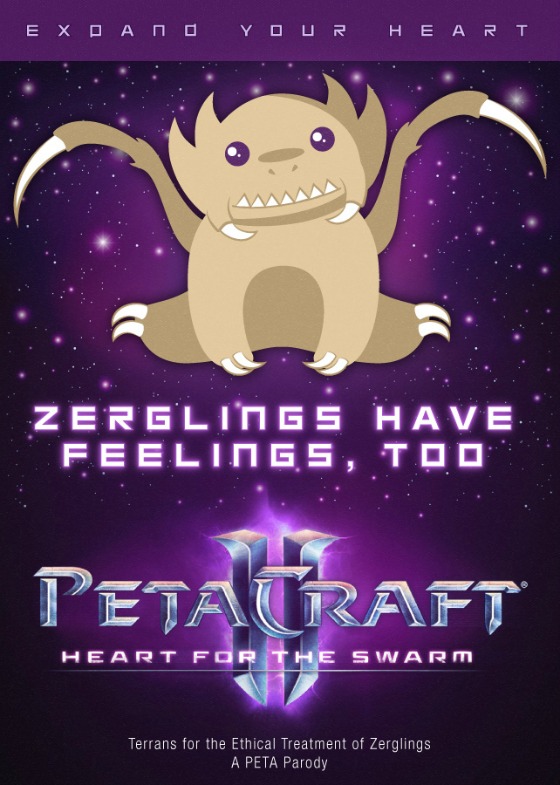 Of course, our main goal was to show that although Zerglings are not real, there are many other equally strange and exotic animals we share this planet with who deserve our empathy. Just because crocodiles and snakes look "alien" doesn't make it OK for us to skin them alive for a handbag, shoes, or a belt.
All in all, it was a great demo. TETZ would like to send a big "thank you" to everyone at the launch event for making us feel so welcome!
Inspired to help animals?