T&D's Cats of the World in Penns Creek, Pennsylvania, exploits other animals in addition to felines—primates, foxes, and others are confined to small cages, and some appear to be suffering. Two foxes were seen scratching themselves frequently and one had thin fur around the neck, indicative of a possible flea infestation. A bobcat in a tiny cage was observed pacing in circles—an abnormal repetitive behavior indicating psychological distress. And lemurs were confined to small, dark, barren enclosures with no access to grass or trees.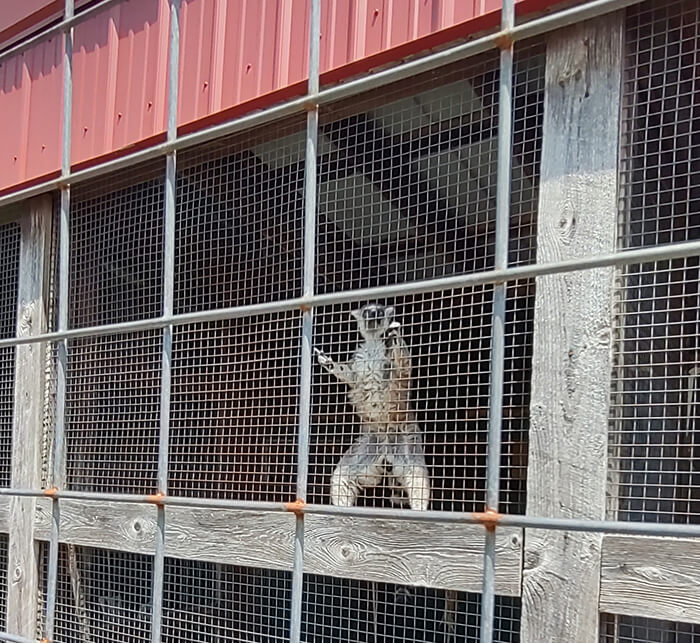 While T&D's claims to be a "sanctuary," it's actually a roadside zoo. The facility was recently called out by the U.S. Department of Agriculture (USDA) for buying bobcats and cougars from someone without a USDA license. True sanctuaries have limited funds and would never reward an abuser by purchasing an animal—or would do so only in the most desperate of circumstances, provided that the abuser would agree not to acquire another animal of that species. T&D's has also been cited repeatedly by the USDA for failing to maintain many of the enclosures in good repair and failing to provide the animals with adequate veterinary care.
Lemurs are endangered primates native to the island of Madagascar, where in nature, they spend most of their time in the trees. At T&D's, they and other wild animals are kept in small cages, deprived of everything that's natural and important to them. Denying these animals the space and environment they need to engage in their natural behavior is a form of speciesism—a human-supremacist worldview.
Please urge T&D's to send the animals to reputable facilities where they can live in vast, lush habitats and get the care they deserve.
Jennifer Mattive
zoo co-owner


[email protected]
Please feel free to use our sample letter, but remember that using your own words is always more effective.