When the elephants used in Tarzan Zerbini Circus aren't being forced to perform degrading tricks, they're used for rides, photo opportunities, and "extreme encounters" at $200 a pop at Two Tails Ranch in Florida—activities that put both them and humans in danger. In fact, the operators of the circus and the roadside zoo—the Zerbinis—have a long history of dangerous elephant attacks involving serious injury and at least one human death.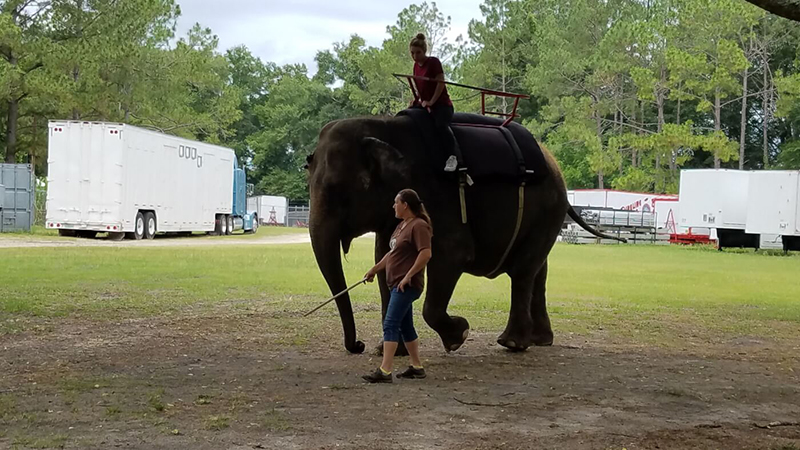 Elephants used for rides are taken from their frantic mothers as babies, tied down, and beaten with bullhooks and other instruments designed to inflict pain until their spirits are broken and they're willing to obey their "trainers" to avoid pain. It's no surprise, then, that elephants may lash out in frustration and have been involved in dozens of dangerous incidents. An elephant named Roxy held at Two Tails Ranch once stepped on a worker outside Tarzan Zerbini Circus and broke his pelvis. And a visitor to the roadside zoo was also nearly killed by an elephant named Rajah when he pulled her against the bars with his trunk, causing a collapsed lung, spleen damage, broken ribs, and degloving wounds (a serious skin injury).
Owner Patricia Zerbini said herself that elephants "don't like people touching them. … They don't like to be rubbed on and pet, but that's what people want to do; that's what they really want …. It doesn't mean anything to them. They don't comprehend petting." She also admitted that elephants don't like it when humans touch their trunk or ears, even though many photos and videos posted from visits to the roadside zoo show participants doing just that.
When left in peace in their natural homes, elephants spend their days socializing, swimming, browsing, and playing. And just like all other individuals, they want and deserve the freedom to be themselves. Forcing elephants into dangerous encounters with humans is an egregious form of speciesism—discrimination based solely on species membership.
Urge Two Tails Ranch to send the elephants to an accredited sanctuary where they won't be exploited. Please send polite comments to:
Patricia Zerbini
[email protected]
Post Polite Comments on Facebook
Please feel free to use our sample letter, but remember that using your own words is always more effective.