Update (July 21, 2022): The faulty bird deterrent above the Family Dollar store in Dunkirk, New York, has been removed! The building owner spoke with PETA members and supporters and has taken down the wire-grid system responsible for ensnaring and killing gulls trying to land.
Thank you to all who spoke up for gulls and to the building owner for making this compassionate decision! Please check out our other urgent alerts to take action for animals who still need your help.
---
Original post:
On July 13, PETA was alerted to the plight of two gulls trapped in a faulty bird-deterrent system installed on the roof of a Family Dollar store in Dunkirk, New York. A professional hired by PETA successfully rescued one bird, but it was too late for countless other victims. Shockingly, the rescuer discovered numerous dead and decomposing birds, the apparent victims of a grid-wire system evidently installed as a means of deterring birds from landing and roosting on the building.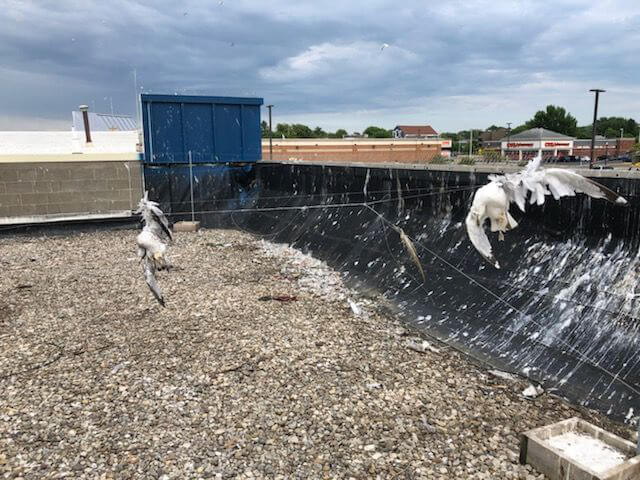 According to officials with the New York State Department of Environmental Conservation, the system has fallen into disrepair over time, allowing gulls to become entangled. The victims of this device surely experienced a miserable end—hopelessly ensnared, unable to escape the scorching sun, and out of reach of distraught employees, who are frustrated with the repeated tragic deaths and the resultant stench of death that apparently permeates the area. Even if these wire contraptions were brand-new and "up to par," they would still pose definitive threats to birds coming in for a landing.
We brought our concerns and ideas for alternatives such as motion-activated owl effigies, deterrent laser systems, and bird "spikes" and coils (which harmlessly prevent roosting)—suggested by adjacent buildings as successful methods—to the attention of the building owner, but apparently no changes are in the works.