Big Cat Habitat and Gulf Coast "Sanctuary" in Sarasota, Florida, has a grandiose name—but don't be fooled: It's no haven for animals. A young chimpanzee named Chance was stolen from his mother and shipped from a Missouri breeder to be a "pet" for a private owner in North Carolina when he was just 6 months old. Not long after, Chance was acquired by the Rosaires—a notorious family who have exploited wild animals in abusive circus shows for decades. The Rosaires forced Chance to perform for productions such as The Wolf of Wall Street and are still using him in a demeaning show at Big Cat Habitat.
[peta-video youtube="GZuC6PA2gMg"]
When Big Cat Habitat isn't forcing the big cats there to perform, it confines them to concrete cells, only periodically giving them access to natural ground and swimming pools. PETA has previously documented that a tiger named Barry had apparent large calluses on his front legs—likely a result of living on concrete—and was seen sucking his own tail, which is a type of self-injurious behavior.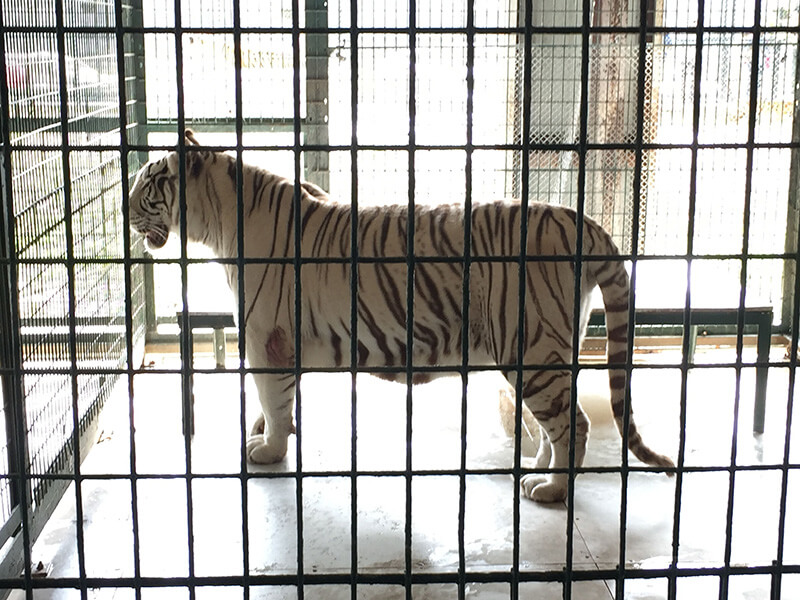 The Rosaires have been cited by the U.S. Department of Agriculture for restraining chimpanzees with rope nooses around their necks, failing to provide primates with enough space or an adequate environmental enrichment plan, and repeatedly failing to provide sufficient public barriers to protect animals and humans.
Chance and other animals at Big Cat Habitat are treated like nothing more than props for human amusement. Please urge the Rosaires to retire these animals to reputable sanctuaries, where they will never be forced to perform again and can get the care that they desperately need.
Please send polite comments to:
Kay Rosaire-Mowrey and Pam Rosaire-Zoppe
[email protected]
Email Kay Rosaire-Mowrey and Pam Rosaire-Zoppe
Post Polite Comments on Facebook
Please feel free to use our sample letter, but remember that using your own words is always more effective.