DIY Christmas Stockings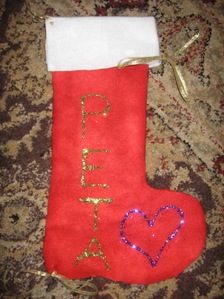 The following article was written by PETA intern Yasmine Jerzak.
While you're decorating for this holiday season, the last thing you'd probably think of being harmful to animals is your Christmas stocking. It's not something I'd ever thought of as being made of wool. But most store-bought stockings are. So this year, I decided to make my very own.
Check out how easy and fun it is!
Supplies you'll need:
Red and white woolf-free fabric
Fabric glue
Glitter
Ribbon
Buttons, rhinestones, and anything else you'd like to decorate with—get creative!
Directions
Fold the red fabric in half.
Draw an outline of your stocking on the fabric.
Cut the outline into two pieces.
Glue the two pieces together.
Cut out a piece of the white fabric to line the top.
Glue white fabric around the top of the stocking.
Decorate! I chose to write with glue, then sprinkle glitter on the glue.
How much easier can being cruelty-free be? Plus, this is a great way to bond with family and friends and get your creative juices going! There is so much that you can do to personalize it. Just use your imagination.
Respond