Five Cruelty-Free Ways to Keep Frogs in Your Home
The following article was written by Keegan Baur. 
Are you a frog fiend? When you see a little green body with cute webbed feet and endearing, bulging eyes, do you have to fight the urge to leap for joy? Because frogs are so irresistible, it's not surprising that people want to have them in their homes. But satisfying one's personal desire at the cost of another creature's freedom is not the answer.
For years, complaints have poured in to PETA about the tens of thousands of African dwarf frogs who are sold as decorations in tiny plastic prisons, often called "EcoAquariums" or "Frog-O-Spheres," by various retailers in malls and stores across the U.S. and Canada. PETA's investigation of Wild Creations—a supplier of these small plastic cubes that confine two frogs in just a few ounces of water—revealed filthy conditions, starvation, and mistreatment of frogs at its warehouse in Myrtle Beach, South Carolina. Kept in stressful conditions and stagnant water that was murky with feces and molted skin, many animals resorted to cannibalism. Live frogs were left on the floor to die or, mistaken for dead, were tossed into the trash.
In order to help us save more frogs from suffering this terrible fate, we need you to speak up for them by urging retailers to ban the sale of EcoAquariums.
Spread the word among your family and friends that if they love frogs, buying an EcoAquarium or a Frog-O-Sphere is not the way to show their affection! The following are five types of products that you can use to show everyone how much you adore frogs—without causing harm to any animals:
1. Entryway Décor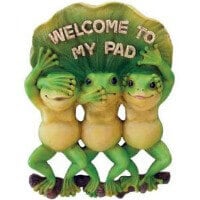 Use the "Welcome to My Pad" keyholder to let everyone know as soon as they walk in the door that frogs are your thang. It's quirky, fun, and totally unique. Oh, and if you want to make sure that your neighbors don't miss the message, you can throw in a matching garden flag for good measure.
2. Bathroom Décor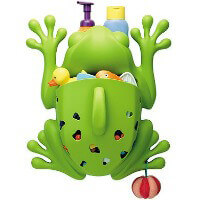 Keep the kiddies squeaky clean with this frog soap dispenser and frog bath toy storage unit.
3. Jewelry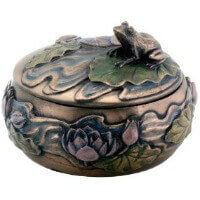 For the girl who dreams of fairytales and frog princes, get a funky pair of smiling frog earrings. Or for the more "mature" woman (who may or may not still dream of meeting her Prince Charming), try these green aventurine lily pad earrings, which would go perfectly with a lovely art nouveau jewelry box.
4. Cuddly Stuff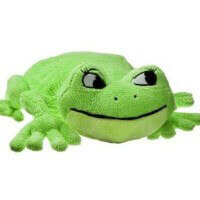 Let the frog pillow pal give you the warm fuzzies, or keep your tootsies toasty with a couple of frog slippers.
5. Figurines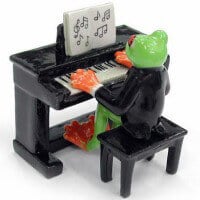 Decorate your mantle with a whimsical frog figurine. I like Buddhist frogs, piano-playing frogs, and frogs who daydream.
Do you have any frog-friendly décor in your life?
Respond