National Picnic Month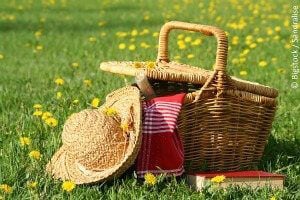 The following article was written by Keegan Baur. 
Imagine feeling the breeze flow through your hair and the sunshine warm your face. Imagine hearing birds chirping in the trees and dogs barking as they euphorically run through the park. And imagine tasting the sweet, succulent, and seasonal vegan treats that you've packed for a summer lunch on the green. July is National Picnic Month, so we should all celebrate by planning picnics chockfull of vegan goodies!
But what will you bring? Have no fear—as always, preparing delicious vegan dishes is a cinch!
Sandwiches
Every picnic spread must contain sandwiches. You can keep things simple with a good ol' PB&J with banana slices. Or slap a few Tofurky deli slices and Tofutti soy-cheese slices on some bread along with lettuce and a vegan mayo such as Vegenaise. Get a little more creative with a falafel sandwich, an eggless salad sandwich, a grilled Portobello and pesto sandwich, or a tempeh sandwich with vegan garlic aioli. The possibilities are endless!
Dips and Sides
Creamy dips and sides are quintessential warm-weather foods that taste perfect while dining outdoors on a sunny day. As a bonus, there are fewer calories and less fat and cholesterol in the vegan versions—and they still taste scrumptious! Cole slaw, potato salad, hummus, guacamole, and spinach dip all fit perfectly into this category. In fact, this spinach and artichoke dip is one of my favorite things to whip up when gathering with friends, whether at a picnic, a party, or a potluck. It's adored by omnivores and vegetarians alike!
Cheese and Crackers
Would anyone like some cheese and crackers? Cheese can sometimes be seen as the hardest thing to "give up" when going vegan, but the truth is that with all the available alternatives, there's really no sacrifice involved. Just this past weekend, a vegetarian friend of mine tasted my version of vegan goat cheese and exclaimed, "Oh, my God. This is … better than [dairy] cheese!" (And trust me, that guy loves cheese.) For my own picnic, I plan on trying out this vegan brie cheese, and I can barely contain my excitement about it. If you don't have the time or patience to make your own cheese, you can always pick up some yummy store-bought slices and pile those onto your crackers.
Fruity Snacks
Finally, it's not a picnic without one or two fruity snacks. Make a fruit salad with papaya-mint purée or try a unique blueberry salsa. For dessert, sometimes a few bites of vanilla soy yogurt topped with fresh raspberries and a sprinkle of granola is all it takes to quell my pesky sweet tooth. I also love to make and share homemade sangria—it doesn't get any more summery than that!
During the next few months, I'm going to look for every possible excuse to get myself outside to bask in L.A.'s lovely sunshine, so I've added "picnic" to the top of the excuse list. Planning to participate in National Picnic Month? Tell us what foods will be in your picnic basket!
Related Posts
Respond
In This Section