How to Build a Burger
Written by
Amy Snyder
|
August 23, 2007
The art of building a delicious burger is one that many think they understand but so few have truly mastered. The problem is that we are presented with so many options for a single burger—that means so many ways to go wrong.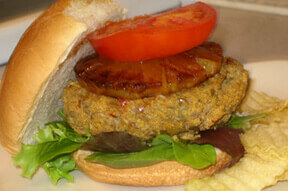 The most important step in making a delicious burger is starting with a homemade patty. Sure, Boca's are great when you're in a hurry or craving a classic taste, but if your burger is going to be crowned "The Ultimate Burger," you have to start with a homemade patty. It's equally important to choose toppings that complement the flavor of the patty, instead of just grabbing every old condiment out the door of your refrigerator.
This summer, I threw a Hawaiian luau where everyone was dressed to the nines in leis and grass skirts, and I decided to try out tropical veggie burgers for the occasion. The patties are made from a combination of lentils, brown rice, curry, carrot, ginger, allspice, and more. After each patty was grilled, we topped them with caramelized rings of pineapple and red onion, then finished them off with juicy tomato slices.
I made the patties the day before the luau and stored them in the freezer to harden. The day of the party, all I had to do was spray them with a little bit of cooking oil and toss them on the grill. My guests all told me that this was one of the best veggie burgers they'd ever tried because all the flavors complemented one another. Now that's how you build a good burger.
Tropical Veggie Burgers
For the Patties:
1 cup green lentils, rinsed 1/4 cup brown rice 2 cups vegetable broth Water sufficient to cover the lentils and rice Salt, to taste 1 1/2 Tbsp. margarine 1 onion, chopped 4 tsp. curry powder 1/3 cup shredded carrot 2 Tbsp. sauvignon blanc 2 Tbsp. hot sauce 1/2-3/4 cup panko 4 garlic cloves, minced 4 tsp. minced fresh ginger 1/2 tsp. ground allspice 1 tsp. cumin•Put the lentils and rice in a saucepan with the vegetable broth, adding enough water to cover by about 2 inches. Season with the salt and bring to a boil over high heat, then reduce the heat and simmer, uncovered, until the lentils and rice are tender, about 30 minutes. Drain any excess liquid and place the lentils and rice in a large bowl. Let cool.
•Meanwhile, melt the margarine in a skillet over medium heat and sauté the onion until tender, about 4 minutes. Stir in the curry powder and cook until aromatic, about 1 minute.
•Cool slightly and then add to the lentils and rice.
•Stir in the remaining ingredients and season with the salt. Form into patties and place in the refrigerator for 30 minutes to 1 hour.
•Grill for 5 to 10 minutes on each side, until grill marks appear and the patties are hot.
To Assemble:
1 can pineapple rings, drained 1 red onion, thinly sliced (optional) 1 Tbsp. margarine Kaiser rolls 1 tomato, sliced (optional) Lettuce Vegan mayonnaise
•Slice the pineapple rings in half to make a thinner ring. Grill until caramelized, about 5 minutes on each side.
•Grill the onion until lightly browned.
•Spread the margarine over the rolls and grill until lightly browned.
•Place the veggie burgers on the buns and top with the pineapple, onions, tomato, lettuce, and vegan mayonnaise.
Makes 6 to 8 servings
Respond