Breakfast Crème Brûlée
|
Mix up your morning routine with this healthy recipe for crème brûlée! Breakfast is the most important meal of the day, so treat yourself to a scrumptious crème-less crème brûlée. Just add 15 extra minutes to your morning schedule, and you'll have yourself a delicious breakfast to start the day off right!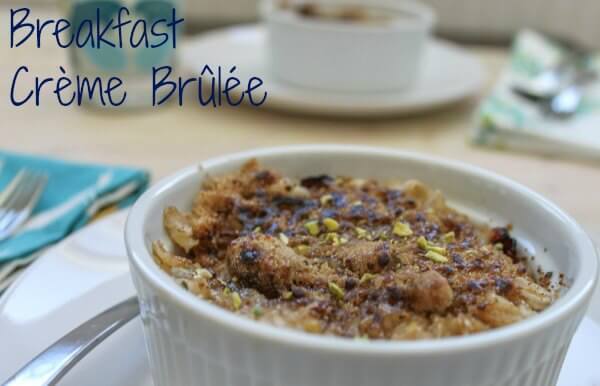 Breakfast CrèmeBrûlée
This recipe comes from Jerry James Stone of CookingStoned.tv.

2 cups water
1 cup old-fashioned oats
1/2 tsp. salt
1 cup unsweetened berries
1/4 cup chopped nuts
1/2 cup dried berries
1/4 cup maple syrup (optional)
2 Tbsp. brown sugar
Bring the water to a boil and add in the oats and salt. Reduce to a low simmer and cook for 5 minutes. Remove from the heat and let sit covered for 2 minutes.
Divide the unsweetened berries (I used frozen as fresh are not in season yet here), nuts, dried berries, and oatmeal between two ramekins.
Top with the maple syrup, followed by the brown sugar.
Place the ramekins on a baking sheet and put in the broiler on high for about 5 minutes, making sure that the crème brûlée doesn't burn.
Serve warm and enjoy!
Makes 2 servings
Try these other recipes to spice up your morning:
Respond