Basil Pesto
Pesto is traditionally made from only a few key ingredients—basil, garlic, pine nuts, and Parmesan cheese. Of course, there are variations, but most recipes include these four ingredients. This means that the classic sauce is naturally vegetarian and can be easily veganized by omitting the cheese or replacing it with a vegan alternative.
Warm pasta enhances the flavors of this pungent sauce, but it's definitely not your only option for serving. Get a little crazy and try it on pizza, on a sandwich, as a marinade for tofu before it is baked, or even in lasagne.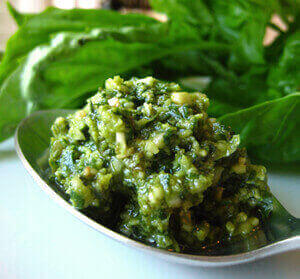 Basil Pesto
3 garlic gloves, peeled
1/3 cup pine nuts
3 cups firmly packed fresh basil leaves
1/2-3/4 tsp. salt
1/8 tsp. freshly ground black pepper
1/2 cup extra virgin olive oil
1/4 cup soy Parmesan cheese
Place the garlic and pine nuts in a food processor and process until minced. Add the basil, salt, and pepper and process until the mixture is ground into a paste.
With the machine running, pour the oil into the feed tube in a slow, steady stream until well blended.Transfer to a bowl and stir in the soy cheese.
Cover and refrigerate until ready to serve.
Respond